#ncpol: Firms from Jim Black era scandal get state lottery contracts
That's what it looks like: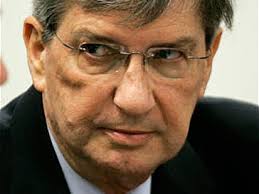 The North Carolina Education Lottery Commission awarded two contracts for the operation of its gaming systems and instant ticket services Wednesday.

Foreign-owned International Gaming Technology, formerly GTECH, was awarded the contract to rebuild the state's gaming systems from the ground up, with Strategic Games Technology getting the contract to print out the state's instant tickets and related service contracts.

IGT, which held the original lottery contract beginning in 2004, will be paid 1.15 percent of instant ticket sales and 0.36 percent of draw game sales for its work developing the state's games.

Scientific Games will receive 0.669 percent of instant ticket sales for its work in the printing, storage and distribution of instant tickets.

Scientific Games has offices in New York, N.Y., New Haven, Conn. and Alpharetta, Ga., as well as international interests.

IGT is headquartered in the United Kingdom but has a North American headquarters in Providence, R.I.

The nine-member commission board voted unanimously on both contracts to approve the commission recommendations, which are expected to save the state $6.3 million between the two contracts in their first year. The contracts will face further review (see below), but have cleared their biggest hurdle.

The total costs of the new contracts, set to go into effect April 2017, are expected to be $26.5 million, as opposed to the $32.8 million expected under the old contracts.[…]
OK.  Let's go back now to 2006 when Mr. Jim Black of Mecklenburg County was trolling around Jones Street: 
The "personal relationship" between House Speaker Jim Black and a former aide was the focus of the federal fraud trial of a former state lottery commissioner on Wednesday.

Kevin Geddings, charged with eight counts of mail or wire fraud, is accused of failing to disclose to the State Board of Ethics and others that his Charlotte-based public relations firm received more than $250,000 from lottery vendor Scientific Games Corp. or a company it acquired.

Prosecutors said Wednesday they might ask questions about Black's relationship with Meredith Norris, his unpaid political director who also was working as a lobbyist for lottery vendor Scientific Games. Assistant U.S. Attorney John Stuart Bruce said the relationship "impacted governmental decisions."

Black appointed Geddings to the lottery commission last year, calling it a last-minute decision that didn't come at the suggestion of Scientific Games.

"No one was influencing me about who I was going to appoint," said Black, called as a defense witness in Geddings' fraud trial. "I don't believe that anybody pushed me to make any decision about anyone."

[…]Prosecutors have argued Black decided to pick Geddings for the panel during a Sept. 21, 2005, dinner at a Raleigh restaurant with Scientific Games lobbyist Alan Middleton and Norris.

"I don't remember any discussion about the lottery commission," Black said in front of a courtroom filled with spectators. "I don't remember any discussion about appointing Kevin Geddings."

Black, D-Mecklenburg, said he was tired after a long day and had two vodka tonics during the dinner. He said he made the choice to appoint Geddings to the panel the next day, believing Geddings' experience as chief of staff for former South Carolina Gov. Jim Hodges made him a solid choice for the commission.

[…]

Black said he didn't talk to Geddings again until nearly a month later, when Geddings asked whether Black wanted him to step down. Geddings eventually left the post Nov. 1, hours before Scientific Games disclosed that it paid him $24,500 in that year for communications work.

[…] Black said he met with lobbyists for GTECH Holdings Corp., another lottery vendor, as often as those for Scientific Games. Both companies were allowed to comment on the legislation last year that created the state lottery, and GTECH later beat out Scientific Games for several lottery contracts.[…]
And then there's THIS from John Hood, circa 2005.
These two MAY be the only two capable of doing this kind of work.  Who Knows?  But it is interesting to see two players from a rather dark period in Jones Street history resurfacing.