#ncpol: Amnesty and the June primary
Donald Trump has made immigration a major issue in the presidential race.  On the congressional level, a number of candidates on the ballot for the June 7 primary have staked out interesting positions on the problem of illegal aliens: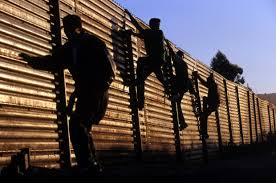 District 2:  During last week's televised debate, George Holding told the audience he's

not at all interested

in giving a break — a "pathway to citizenship" — to people who have already broken the law.  We were also reminded during the debate that Renee Ellmers voted against (1) defunding Obama's executive order on amnesty (2) as well as a bill prioritizing the deportation of sex offenders.
District 6:  In a non-televised candidate forum in Sanford Friday night,

Mark Walker

told the audience he is NOT for deporting illegal aliens already living in this country.
District 9:  

Robert Pittenger

has earned praise from a pro-amnesty PAC run by Facebook's Mark Zuckerberg. 

Mark Harris

was supportive of a pathway–to-citizenship resolution passed by the Southern Baptist Conference while he was head of that organization.