#ncga: Speaker Timmy likes the taste of 'pork', too.
Just like Axel Foley, I smell 'pork.'  
Here's The Shelby Star, Speaker Timmy's hometown paper: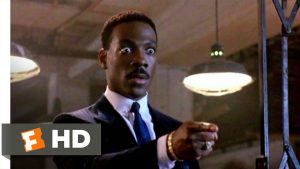 Among the questioned earmarks included in the proposed state budget is a $5 million allotment for Cleveland Community College.

Democrats and critics of the spending plan have zeroed in on the special initiatives statewide that stand to receive funding within it, blasting them as "pet projects" that were pushed through largely to gain favor for GOP legislators. But Republican House Speaker Tim Moore, whose home region in Cleveland County stands to receive some of the largest earmarks, said he stands by everything he and other lawmakers have endorsed.

"We don't just fund a project because somebody asks," he said. "We fund a project that has some merit to it. We try to look at things that will benefit economic development and tourism."

One example is the $5 million that has been pinpointed to go to the Cleveland Community College Center for Advanced Manufacturing. That project will have a positive ripple effect across a much wider area than just Cleveland County, he said.

"With its manufacturing and training facilities, that will benefit our whole region," he said. "That is a need that has been articulated for our whole region, and I was glad to help secure that."

Other earmarks for Cleveland County include allotments of $250,000 for an adult day center in Shelby, $250,000 for a children's home and $200,000 for the Cleveland County Fair Association.

Moore said the earmarks in the budget going before Gov. Roy Cooper have merit, which goes against how critics are categorizing the expenditures.

"I think pork barrel projects are things that are funded that are clearly wasteful and not needed," he said.
Here's a more comprehensive list of the funded projects in The Speaker's district:
• $5 million — Cleveland Community College Center for Advanced Manufacturing

• $4.1 million — Mountain Island Educational Forest
A "Center for Advanced Manufacturing" — in an era where industry is fleeing offshore as fast as it can?  (And it's set up in one of the more remote parts of the state.)
Mountain island Educational Forest is what you think it is — A FOREST.  A state park.  A bunch of trees.  Wildlife.  (For $4.1 million — are they clear-cutting it and building offices, or something?) 
• $1 million — Gaston County Family YMCA, new complex at Robinwood Lake

• $250,000 — Life Enrichment Center, an adult day center in Shelby

• $250,000 — Children's Home of Cleveland County

• $200,000 — Cleveland County Fair Association, repairs and renovations of buildings

• $100,000 — City of Gastonia, Gastonia Municipal Airport maintenance improvements

• $100,000 — City of Kings Mountain, construction of amphitheater at Patriots Park for concerts and events

• $75,000 — City of Belmont, upgrades to Stowe Park

• $50,000 — Crowders Mountain State Park, facility and operating upgrades

• $50,000 — City of Shelby, downtown plaza/park renovations and a public safety memorial monument/sculpture

• $50,000 — Town of Boiling Springs, curbing, benches and improvements along downtown streets

• $50,000 — Town of Lawndale, engineering services for sewer system expansion

• $50,000 — To each of the municipalities of Bessemer City, Cherryville, Dallas and Shelby for downtown revitalization projects

• $25,000 — Town of Lattimore, financial assistance to revitalize town parks and a community center
 Leaders set the example for a whole group.  Unfortunately, the leader of the Republican House has succumbed to the same pork-barrel spending that Republicans beat up on Democrats about prior to 2010.