#NCGA: Sens. Tarte, Hartsell bringing no-bid P3s to Concord, Kannapolis and Mint Hill?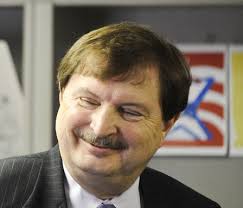 We're a little late on this one. We've been preoccupied with the election and the cromnibus nonsense in Washington.  But this little gem just caught our attention.  There's been quite a hubbub in Mecklenburg County about bringing in a controversial Spanish contractor to build and manage the widening of that thoroughfare in the northern part of the county.
In June, Fletcher Hartsell (RINO-Cabarrus) and Jeff Tarte (R-Mecklenburg pushed through legislation that seeks to bring more of the same to that part of the state:
[…] SECTION 1. A municipality may enter into reimbursement agreements with
private developers and property owners for the design and construction of municipal
infrastructure that is included on the municipality's Capital Improvement Plan or similar
Municipal Infrastructure Development Plan and serves the developer or property owner. For
the purpose of this act, municipal infrastructure includes, without limitation, water mains,
sanitary sewer lines, lift stations, stormwater lines, streets, curbs and gutters, sidewalks, traffic
control devices, and other associated facilities.
SECTION 2. A municipality shall enact ordinances setting forth procedures and
terms under which such agreements may be approved.
SECTION 3. A municipality may provide for such reimbursements to be paid from
any lawful source.
It will be interesting to see how many of the affected property owners or contractors show up on either Tarte's or Hartsell's campaign finance reports. Here's where things start to get even more interesting:
SECTION 4.No reimbursement pursuant to an agreement authorized by this act
shall be deemed to be construction subject to Article 8 of Chapter 143 of the General Statutes
or to be deemed to be a violation or evasion of any provision of said Article.
Ok. Article 8 of Chapter 143 of the North Carolina General Statutes governs the bidding of projects paid for with public funds.  It sounds like just enough wiggle-room has been created here to actually NOT require bidding on any of these P3 jobs. MORE:
Notwithstanding the foregoing provisions of this section, a construction contract subject to a reimbursement
agreement authorized by this act shall not be awarded by a developer or property owner who is
a party to such reimbursement agreement without complying with the requirements of
G.S. 143-129 and G.S. 143-128.2 relating to public advertising and bid opening requirements which would be applicable if the construction contract had been awarded by the municipality.
OK, so it appears participants will have to comply with "minority participation requirements".    Local politicians get the final say as to who gets the work. MORE: 
SECTION 5. This act applies only to the Town of Mint Hill and the Cities of Concord and Kannapolis. […] 
Don't you just love legislation tailored to very specific projects and very specific locales? We suspect that a lot of smoke got blown in smoke-filled backrooms cooking this one up.