Former Helms aide front-runner for top DC post w/ Sen-elect Tillis?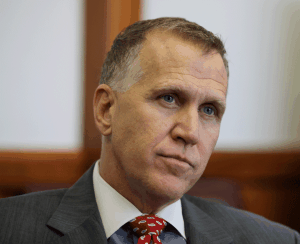 That's what I am hearing from some pretty well-plugged in folks.  I am hearing that John Mashburn, a former legislative counsel to the late Senator Jesse Helms, is the favorite to run Thom Tillis's US Senate operation.
John's current role is executive director of The Carleson Center for Public Policy – a DC think tank promoting Reaganite public policy positions.  He's also been in a leadership role with The American Civil Rights Union — whose major supporters include former US attorney general Ed Meese and long-time RNC delegate and conservative stalwart Morton Blackwell. Mashburn did the lawyer thing with Womble Carlyle  and served as a Hill staffer on the House and Senate side.  He's an alumnus of both NC State AND Carolina. 
I encountered John in the late 80s and early 90s while I was working in Helms's DC office and finishing up my undergrad work at GW.  John was one of Helms's more aggressive senior advisers.  If my memory serves me correctly, John was the point man on Helms's highly-publicized fight to defund The National Endowment of The Arts.
The guy I knew back then would seem to be more comfortable with someone like Ted Cruz than with Thom Tillis. (Granted, it has been nearly 25 years since I've encountered or communicated with Mashburn.)  
Hopefully, I haven't killed John's chances of landing this opportunity.  We have not been big fans of the senator-elect. I am not so sure that an endorsement from this site would be a PLUS with Thom T. 
Naming Mashburn as Tillis's right-hand man would be a positive overture to those on the right who are still wary of 'Mr. 48 percent.' Mashburn is highly-experienced in the ways of Washington — on and off the Hill.  He has strong ties to the conservative movement — especially the religious right.  Let's hope this pans out.