#ncga: RINOs once again hunting Pittman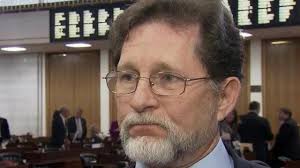 Larry Pittman has been one of the few solid, dependable voices for limited government in the legislature.  THAT has made him the bane of the GOPe and all of the other cross-the-aisle-and-play-nice inhabitants of Crony Capitalism Land.   Pittman is not a fundraising machine.  He's not running around shaking down lobbyists and business people in his district like so many of his colleagues are.  He has lived and thrived mostly on a personal trait rarely found in elected officials: stating a principled position, and then acting on it. 
Last go around, the GOPe foisted an opponent on him whose hairdo was so bizarre that voters spent so much time staring at it and so little time listening to HER.  This time around, the Fletcher Hartsell fan club has dug up a new opponent — a Charlotte lawyer who looks every bit of 15 years old.
The campaign is already getting off to a rough start.  The GOPe standard-bearer has already gone to the drive-bys and insinuated that Pittman is lying about him: 
[…] The Fischer-Pittman in the 82nd District House match-up already appears to be one of the hottest races. A couple dozen people holding Fischer and Morris signs greeted those candidates as they left the board of elections Tuesday afternoon after filing.

In October, Pittman wrote a letter to the editor stating that Fischer's supporters, Cabarrus Jobs Now, were trying to raise $100,000 to unseat him. He said the most he had ever raised for a campaign was $40,000 in 2014 and he didn't spend all of that.

Tuesday Fischer said the $100,000 figure was not accurate. "We'll raise whatever is necessary to run a competitive successful campaign."

The race will pit the incumbent Pittman and the more conservative wing of the local GOP against the more moderate segment of the party.

"I made only a few promises when I began running for this office," Pittman said in a written statement delivered to the Independent Tribune. "In spite of criticism and pressure from the left, I have kept those promises, and have refused to surrender to their corrupt agenda…" […] 
So, $100K is incorrect?  Well, let's refer to a trusty Fischer fundraising letter we happened to get our hands on (Note the second sentence of the last full paragraph):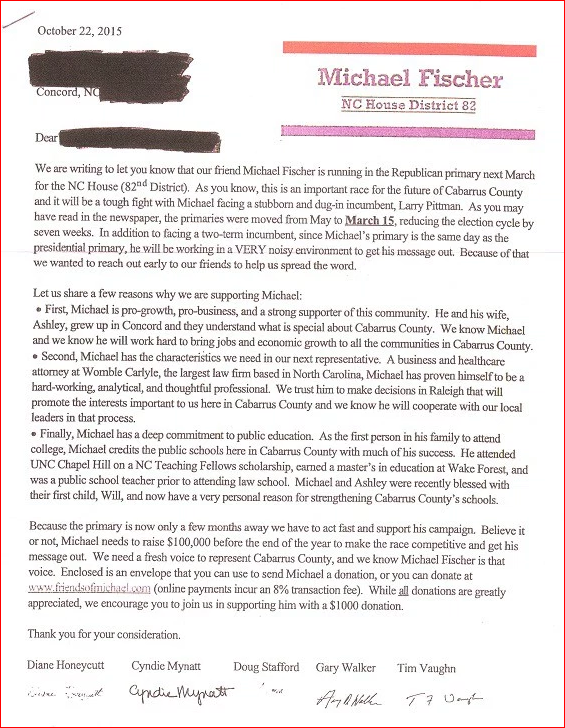 If you CAN, help Larry out.