#ncga: No ID? Give them an absentee ballot and move on.
A group of Democrat senators has introduced a bill calling for JUST that.  Given that the GOP runs the upper chamber,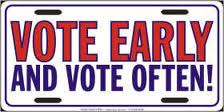 I would lean toward thinking that this bill has no prayer.  But then, I thought there was no chance in hell that a GOP-led Senate would bless a gas tax hike. 
The left went bats–t crazy when the GOP-led legislature passed a watered-down voter ID bill during the last session.  They've attacked the law in court.  The US Justice Department is reportedly eyeing action against the North Carolina bill. 
Here are some of the, um, highlights of this new Democrat bill:
A BILL TO BE ENTITLED AN ACT TO REQUIRE COUNTY BOARDS OF ELECTIONS TO NOTIFY A  REGISTERED VOTER OF THE OPTION TO COMPLETE A WRITTEN REQUEST FOR AN ABSENTEE BALLOT AT A ONE-STOP VOTING LOCATION WHEN THE  VOTER PRESENTS WITHOUT AN ELIGIBLE FORM OF PHOTO IDENTIFICATION

[…] Any voter who fails to present an eligible form of photo identification in accordance with G.S. 163-166 shall be notified of the option and permitted to complete a written request  form for an absentee ballot at the one-stop absentee voting location in accordance with  G.S. 163-230.2. The county board of elections shall provide to the voter notice of each of the 22 following:  (1) The option to complete a written request form for an absentee ballot at the  one-stop absentee voting location, so long as the completed request form is  received by the county board of elections not later than 5:00 P.M. on the  Tuesday before the election as provided in G.S. 163-230.1(a).  (2) The option to complete the request form using the last four digits of the  voter's social security number as provided under G.S. 163-230.2(a)(4)c. or by providing a copy of any of the documents under G.S. 163-166.12(b)(2).  (3) The instructions for completing the absentee ballot in accordance with  G.S. 163-230.1, along with the deadlines for returning the absentee ballot.  (4) The means by which the voter may transmit the executed ballot to the county  board of elections as provided in G.S. 163-231, including through delivery in  person to an election official at a one-stop voting location.[…]
No ID? No idea as to who this person is who has showed up to vote?  *Just give them a ballot and move on.*  
Unbelievable.  The dwindling Democrat caucus on Jones Street is bending over backwards to keep election day shenanigans alive. These people demand you show an ID to purchase or possess a firearm — a Constitutionally-protected right.  Look at some of the lesser tasks that require an ID — buying cigarettes and alcohol, setting up utility service, getting a library card. 
It's amazing they want to give people not possessing ID a pass at the polling place.  The police — if you tell them you don't have ID — are not going to simply give you a pass. 
Voting is also a constitutionally-protected right. It's a practice that helps determine the direction and character of our nation and communities. People have shed blood to earn access to the ballot. It's a very serious practice reserved for duly qualified US citizens and residents of specific communities. But, for some reason, the lefties don't want an ID associated with this practice.  
Then again, it is so much easier to haul van-loads of semi-literate people from remote, poor parts of the community over to polling places without having to worry about trivia like proving WHO people are and whether they are qualified to vote.