#ncga: Dropping like flies (picking up primary opponents?)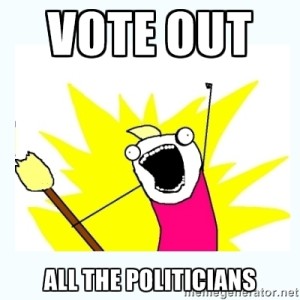 Brian Brown.  Jacqueline Schaeffer. Rayne Brown. Leo Daughtry. Paul Tine. Skip Stam.  That's an awful lot of folks bailing out of Jones Street's lower chamber majority. Could some folks be smelling the fire of the mob's torches?
 (Tine, a Democrat Unaffiliated member of the GOP caucus was in a GOP-leaning district, and had both the Democrats AND Republicans mad at him.  I didn't see how he could pull another victory out of the hat in 2016.) 
The recent uproar over H373 and S119 has sparked an awful lot of interest in the upcoming GOP primaries.  I talked with a couple of GOP campaign consultants who tell me their phones are ringing off the hook from people looking to target incumbents in March. 
Larry Pittman (R-Cabarrus) — one of our favorites — appears to have yet another primary challenger (thanks to his colleagues Linda Johnson and Fletcher Hartsell).  We understand Nelson Dollar has a pretty strong primary challenger on the way.  We've heard of at least a dozen others waiting in the wings preparing to announce.
Republicans will likely still hold Jones Street when the smoke clears in November.  But it looks like they will do it with a lot of new faces.