#NCGA: Did drone co. CEO really "co-author" new drone regulations?
We posted earlier about how new regulations on the use of unmanned drone aircraft in North Carolina *magically* appeared amid an appropriations bill that passed the state Senate.  A specific bill passed the state House, but we cannot find any evidence of a vote on that bill — or a public committee hearing on that bill — in the state Senate. 
The new regulations opened the door for law enforcement officers in North Carolina to use unmanned aircraft in the performance of their duties. Then, we learn that a startup called Olaeris — specializing in pitching drones to law enforcement —  wants to set up shop in Winston-Salem and create 200 jobs.
What struck us as curious was a passage from Olaeris CEO Ted Lindsley's LinkedIn profile where he claimed to have "Co-authored and passed into law in July 2014, the North Carolina UAS operating laws."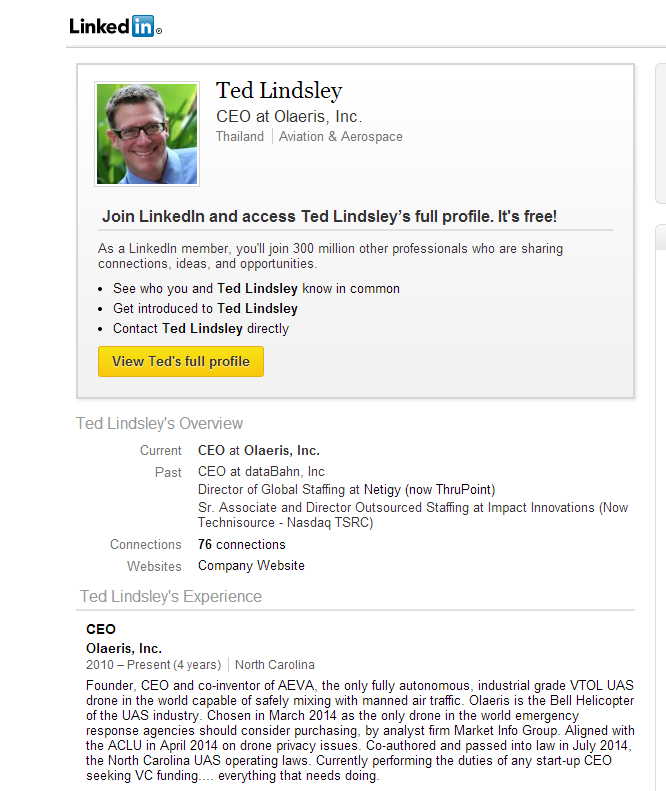 Is that language accurate?  Or did Lindsley embellish his contribution to the effort?  How many business people get to "co-author" legislation that directly benefits their companies? 
In December 2013, Olaeris announced its intention to set up its US headquarters in North Carolina.  In April 2014, the North Carolina Legislative Study Commission — a bipartisan group from both NCGA chambers — put together a proposal on drone regulations.  The documentation of the committee's proposal indicates that Lindsley contributed to those discussions.
In June, drone regulations passed the House and headed over to the Senate.  That's the last we heard until  August 7, when some drone regulations that align beautifully with OIaeris's business strategy were part of an appropriations bill that passed the state Senate.  This Senate action was apparently done so stealthily that one of the House bill's chief co-sponsors was unaware of it.
On August 14, we heard that Olaeris's relocation to North Carolina was "in doubt."   Lindsley, the CEO, had some concerns:
[…] "It's not great, it's just OK," Lindsley said of the drone-related legislation that passed out of the state legislature this session. "They seemed to want to take the easiest path, which was just to pass anything and then let the FAA figure it out… Ultimately, we believe that responsibility is the state's and while now they've put a framework together, they're not taking a leadership role. Eighteen months ago, North Carolina had a two-year lead over other states. Now you've got three to six months tops."

Lindsley said at this point he needs a firm commitment from the state not for tax incentives – Olaeris doesn't want any, he said – but rather that it will become the first state to implement an integrated UAV installation through a $6 million purchase contract with his company. That contract would provide for 15 UAVs to be deployed around the state to provide visual coverage to responders during future emergencies.

With such a commitment in place, Olaeris would be able to move forward with its plans for the Triad, and in the process of planning for the deployment state officials would by necessity begin to assemble a working regulatory infrastructure, he said. That would in turn encourage other UAV companies to move to the state too.

"If you want to lead this industry, you have to install actual operational equipment that can prove to the world you can do this, and that it can't be done elsewhere," he said.

Lindsley said he's given the state's Department of Commerce with whom Olaeris has been negotiating until September 25 to make the $6 million purchase commitment. He said the company has offered to be extremely flexible on the terms, including no payments due at all until a fully functioning and satisfactory system is delivered. After September 25, he said the company will make other plans. […] 
So, this guy needs $6 million from us within a month, or he's taking his drones and going home.