#ncga: Charles Jeter. So nice he voted TWICE (in the same election)?
When it rains, it pours.  And WBTV's BIG DOG, Nick Ochsner,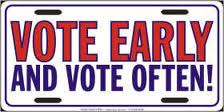 is dumping a big ol' barrel of rain water over the head of state Rep. Charles Jeter: 
Election records in North Carolina and South Carolina show former State Representative Charles Jeter voted twice in the 2004 presidential election.
Hmm.   If true, THAT is against the law, boys and girls.  MORE: 
On Your Side Investigates uncovered the documents on Monday, the same day Jeter announced he was resigning his seat in the legislature and would not be seeking re-election.

Records maintained by the South Carolina State Election Commission show Jeter voted in person at a precinct in Greer, SC on November 2, 2004.

The North Carolina State Board of Elections website shows Jeter also voted at a precinct in Huntersville, NC on November 2, 2004.

Under federal law, it is a felony to knowingly cast more than one ballot in a federal race. The 2004 ballot included the race for President of the United States.

Reached by phone Monday, Jeter said he did not vote twice.

"I certainly didn't vote in South Carolina that day," Jeter said. "I don't know why it shows I did. I wasn't there, I didn't vote then, I just don't understand why it would show that."
*He MUST have a point there.  I mean, didn't The Round Rev™ tell us stuff like that just doesn't happen?*  MORE:
Jeter grew up in and attended college in South Carolina. He moved to Huntersville in 2004. Records show Jeter's 2004 vote was his first in North Carolina and his last in South Carolina.

"I'm certainly going to call down to the SC board of elections to see what I can find out," Jeter said.

Jeter was among a long list of Republican lawmakers who sponsored legislation in 2013 that required voters to provide photo identification at the polls and made other changes to the state's election laws.

Among the other changes in the bill was a provision that required the state to cross-check its voter rolls with other states to identify voters who may be ineligible to continue voting in North Carolina.
Hmmm. This certainly is not going to help with the lawsuit.