#ncga: Bipartisan bill makes it easier for third party, unaffiliated ballot access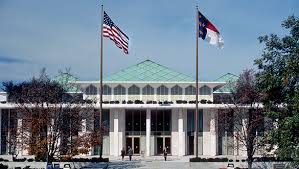 It seems almost too good to be true.  Reps. Jason Saine (R-Lincoln) and Paul Luebke (D-Durham) have filed a bill making some interesting amendments to state election law:
 A BILL TO BE ENTITLED  AN ACT TO AMEND THE DEFINITION OF A "POLITICAL PARTY" AND TO REDUCE THE SIGNATURE REQUIREMENT FOR UNAFFILIATED CANDIDATES.
Interesting, huh?   Here are some of the more notable changes the bill offers up:
A lower threshold for forming a new political party.

 Current law says you need at least two percent of all voters who cast ballots for the most recent gubernatorial or presidential race in the state.

 Luebke-Saine drops that threshold to 0.25 percent of voters in those elections. 

The petition for a new party must be signed by at least 200 registered voters from each of at least

three

congressional districts. Current law requires FOUR  congressional districts.
The deadline for a new party petition also gets extended by about a month beyond the deadline spelled out in current law.

A lower threshold for unaffiliated candidates.

 To get on the ballot, Luebke-Saine would require a petition including names of at least 0.25 percent of the number of voters who cast votes in the last general election for the office the unaffiliated candidate is seeking.  

Current law specifies TWO percent. 

If the office being sought is a local one or single county legislative district, the petitions are filed with the county board of elections.  All others go to the state board.
Let's keep an eye on this one, folks.