#NCGA: All roads lead back to Thom (and his campaign fund)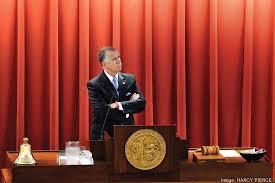 During debate this week on economic development incentives, legislators were reminded that $7 million in state incentives had been allocated for the filming of CBS's "Under The Dome" series in Wilmington.  According to my sources on Jones Street,  House leadership reminded the rank-and-file in their chamber that state commerce secretary Sharon Decker had already verbally promised this money for "Under The Dome," and that it would be really embarrassing if the deal did not happen.
Well, it appears that "Under The Dome" is shot at EUE Screen Gems studios in Wilmington. Why is this significant?  Let's go back to September, 2013.  House speaker Thom Tillis, in the early stages of his Senate campaign,  promised — during a speech at a Wilmington fundraiser — to fight for the continuation of state film incentives.  Within days of those comments,  several folks with ties to EUE Screen Gems dumped a pile of money on the Tillis for Senate campaign.
Here we are in August 2014.  Tillis and his leadership team are fighting for film incentives that could mean $7 million for an EUE Screen Gems — affiliated project.