#NCGA: A short session surprise?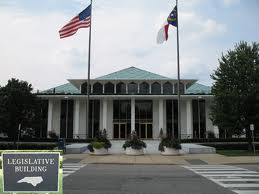 A piece of legislation that has raised the ire of Civitas and other Tea Party-aligned groups,  and has been voted down twice in the state House, has been resurrected and sent to the House Rules Committee.  According to a rather surprising source — who has a vote in the House GOP caucus — it's eligible to be voted on in the General Assembly's short session.  
The legislation I am taking about is H440 — The North Carolina Benefit Corporation Act.  It's come up in the legislature in 2011 and in 2013.  Tea Party groups have attacked this legislation as an instrument of the United Nations' Agenda 21.  Civitas went after it as being antithetical to capitalism. 
Benefit corporations are  not currently recognized by the state of North Carolina. But this legislation is seeking to change that.
What's the big deal about Benefit Corporations, also known as B-corps?  A really smart guy with a fancy-pants Raleigh law firm dishes the dirt for us: 
Benefit corporations recognized by new state laws (see our Benefit Corporation Legislative Status Map and Chart for details about each state's passed or proposed legislation) offer some exciting new opportunities for existing businesses and new businesses, which traditional business structures do not offer.  Consider the following benefits to your company when deciding if a benefit corporation is right for you.

The primary benefits of choosing a legislatively recognized, for-profit benefit corporation over a non-profit model are that benefit corporations have shareholders, can raise capital more freely, and can distribute profits. Tax-exempt nonprofits have obvious tax advantages and can earn profits, but they cannot distribute the profits, as there are no shareholders. A benefit corporation can also pursue for-profit business goals at the same time that it pursues its identified social missions or public benefits.

The primary benefits of choosing a benefit corporation over a traditional for-profit model are (1) protecting the company from shareholder suits complaining that the company's management is focusing on considerations other than maximizing profits, and (2) weaving the company's social mission into the corporation's formative documents, so that the mission cannot be eviscerated by a hostile takeover without a supermajority vote of shareholders.  Financially, there can be other advantages. For example, some jurisdictions offer tax breaks and bidding preferences to benefit corporations.  […]
By the way, said fancy-pants law firm has established a division specializing in b-corporations.
During the 2013 vote, one legislator offered a pretty stinging criticism of the legislation:
Rep. Tim Moore, R-Cleveland, said it's also unnecessary. He said the state's current corporations law already allows for a public-benefit purpose. "You can have a shareholder agreement that defines what the corporation is going to do."

Moore suggested the force behind the B-Corp push is B-Lab, a company that charges up to $25,000 to certify benefit corporations.

"This bill is being promoted all around the country by a third-party group that wants to be the clearinghouse that determines if corporations meet the criteria," Moore said.  "The bottom line is, you don't need a B-Corp."
Why is there so much effort to keep something alive that has been voted down TWICE by the House?
My NCGA source brought this to my attention following my story about Speaker Thom Tillis and legislator-turned-lobbyist Harold Brubaker.  (The post mentioned Visiting International Faculty, a B-corp from Chapel Hill, that employs Brubaker as a lobbyist.) 
Senator Pete Brunstetter (R-Forsythe) was a primary sponsor of both the 2011 and 2013 versions of the benefits corporation legislation.  In the House, you've got a whole lot of far-left Democrats sponsoring the bill. The primary sponsors include Pricey Harrison (D-Guilford) — a HUGE environmentalist – and three Republicans (Leo Daughtry, Chuck McGrady, and Rob Bryan).  Those three GOPers are all part of the Tillis for US Senate campaign team and close House allies of the speaker. 
There are a total of 30 b-corps within North Carolina.   The b-corporation route appears to be quite popular with solar and other alternative energy providers.  Cornelius-based Aquesta Bank, whose ties to Speaker Tillis we've already documented, has made funding of solar energy projects a key part of their business strategy.  Alternative energy mandates also have a surprising amount of popularity with the House leadership.  An effort, last session, to do away with alternative energy mandates — with the aim of saving money for consumers — died with the aid of House leaders.
The Wall Street Journal notes North Carolina-based Murphy Brown, LLC — a subsidiary of Smithfield Foods —  has a growing alternative fuel business.