#nc11: Meadows gets his committee back. Will he keep his cojones?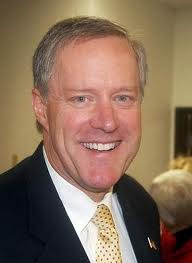 Fresh off of being labeled a traitor by a little boy named Patrick McHenry, congressman Mark Meadows has his committee chairmanship back:
The second bit of good news is that Rep. Mark Meadows (R-NC) has been reinstated by Jason Chaffetz as chairman of a subcommittee from which he was removed earlier in the week. Meadows is a member of the conservative Freedom Caucus and Speaker Boehner demanded his removal for voting against the rule to bring some bills to the floor.

"I think it just got to the point where an awful lot of people were saying, geez, they go out and they openly vote against the leadership and the rest of the Republicans, and nothing ever happens to them," Rep. Mike Simpson, R-Idaho, a close Boehner ally, told the Washington Examiner. "I think it was a lot of us pounding on leadership, saying you have to put some discipline back in our conference."

…

Boehner let the rank-and-file know what he thinks in a private meeting held in the basement of the Capitol Wednesday morning. He told the group he supports the move to strip Meadows of his chairmanship.

"Part of being in the majority is advancing an agenda — a conservative agenda," Boehner told Republicans, according to a witness. "You may not agree with every part of the agenda, and when you don't, you can vote your conscience. But voting against rules is not a vote of conscience. It is a vote to hand the House floor over to Rep. Nancy Pelosi."

Republicans say Boehner has come to realize that he's not going to win over at least some of the conservatives who continue to flout the leadership.

"I think John realizes that you are never going to bring them into the fold," Simpson said. "They are never going to be part of the team."

This is nothing less than a complete surrender by Boehner and it only underscores that he knows his position is shaky, that the revolt is growing, and that he found that punishment was not productive.

Oversight Chairman Jason Chaffetz (R-Utah) has given North Carolina Rep. Mark Meadows back his subcommittee chairmanship just days after it was taken away as punishment for crossing party leaders, according to multiple sources familiar with the decision.

It is a stunning reversal for Chaffetz — and, by extension, the GOP leadership — and could embolden the several dozen conservative Republicans who defy Speaker John Boehner, Majority Leader Kevin McCarthy (R-Calif.) and Majority Whip Steve Scalise (R-La.). Those close to — and part of — House Republican leadership say they disagree with Chaffetz's decision, but feel there is nothing they can do.

"Disgusting," one Boehner ally remarked Thursday.

There is evidence that the Freedom Caucus was not only undeterred by Boehner's move, but that it made them more defiant. There is also evidence that the membership of that caucus grew after Meadows was removed. And there is evidence that the Freedom Caucus decided to play the role of Samson in the Temple.

The House Freedom Caucus has a secret it wants to share with Democrats.

"If the Democrats were to file a motion to vacate the chair and were to vote for that motion unanimously, there probably are 218 votes for it to succeed," one member of the House Freedom Caucus told CQ Roll Call Tuesday night, as he exited an meeting in the basement of Tortilla Coast.

If that's true, Democrats could certainly use a vote to remove Speaker John A. Boehner as leverage in any number of upcoming battles: the Export-Import Bank, a highway bill, all sorts of spending measures. But absent any real talk from Democrats, the official response from Boehner's communications director, Kevin Smith, was simply to dismiss CQ Roll Call's reporter.

"Matt Fuller is a prop for Freedom Caucus propaganda," Smith wrote via email.

While the HFC member in question wouldn't say whether a vote to take Boehner's gavel was part of the discussion Tuesday — and other members said it was not — it's clear thedecision to strip North Carolina Republican Mark Meadows of his subcommittee chairmanship has stirred the already excitable Freedom Caucus into a new frenzy.

The HFC looks ready for war, as does GOP leadership and more moderate Republicans who are sick and tired of conservatives voting against the team — and that could signal more retaliation to come from both sides.[…]
I hope Meadows did not kow-tow and apologize to get his gavel back.  Simpson is wrong.  Being in DC is not about being part of "the team." It's about representing your people back home.  It's about advancing the interest of America over your own selfish ones.