#NC11: Meadows joins Jones in Boehner's "dog house"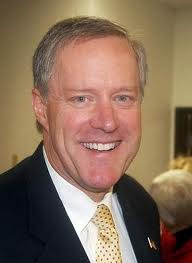 It's no secret there's no love between the speaker and Rep. Walter Jones (R-NC).  Jones voted against Boehner for renomination as speaker.  He's also bucked leadership on a number of key votes.  He's been stripped of any key committee assignments. The boys in DC even hooked Jones up with a serious primary challenger in 2014.
Well, it looks like Mark Meadows (R-NC), over in the 11th district out west, is getting a taste of the Jones treatment:
The House Republican crackdown has reached a new level of severity.
House Oversight and Government Reform Chairman Jason Chaffetz has stripped North Carolina Rep. Mark Meadows of his subcommittee chairmanship, just days after he defied leadership on the House floor by voting against a party-line procedural motion.

"Sometimes the coach needs to make a change on the field," Chaffetz (R-Utah) told POLITICO Saturday. "He's still a valuable contributor, and I really like Mark Meadows, he's a good person. But I need to make a change."
Losing a subcommittee chairmanship midway through a congressional session is among the most serious punishments thus far in Speaker John Boehner's (R-Ohio) majority. Boehner and his leadership team have grown frustrated with Republicans who vote against the procedural "rule" motion. Those votes — which allow the Republican leadership to bring a bill up for debate and a vote — typically fall along party lines. But a group of conservatives has voted against the measures, mostly in protest of Boehner's leadership. Republican leadership sees the move as unacceptable —akin to ceding power to Democrats.[…]
For the record, Chaffetz is a huge disappointment.  He came to DC with all kinds of Tea Party credibility.  Now, he's apparently sold his soul for 30 pieces of silver and a committee chairmanship.  What exactly did Meadows DO to earn this kind of treatment?: 
On June 11, 34 Republicans voted against the rule that allowed for consideration of President Barack Obama's request for fast-track authority to negotiate the largest trade deal in history. Conservatives said Boehner and GOP leaders were working too closely with Democrats, and ignoring Republicans. Boehner said he has worked closely with conservatives. In a closed meeting this week, the speaker told rank-and-file Republicans that he was angry that conservatives were voting against the motions. The GOP leadership has told lawmakers that there will be ramifications for voting against such resolutions.

Meadows was one of the 34 lawmakers who voted against the motion. Chaffetz said there were a "variety of factors" that led to him losing his chairmanship of the Government Operations subcommittee.

"I'm just going to leave it at that," he said, when asked about the other factors. "There were a variety of factors, but I did what I felt was in the best interest of the oversight committee."

Chaffetz said he this was his decision, not the Republican leadership's.[…]
*Um, riiiiiiiiiiiiiiiight.*
So, Meadows is being punished for refusing to vote FOR something with details that are top secret and reportedly give Obama all kinds of new powers that can't be explained to the voting public?  Incredible. 
The last time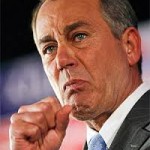 I checked, these people were sent to DC to represent the folks back home — not Boehner and McCarthy.
So, now we have TWO members of Congress from the Tar Heel State with cojones.  Do everything you can to help Mark Meadows (as long as he stays strong).  Money. Votes. Encouraging friends and family in his district to vote for him. 
We are aware that congressman Meadows is a fan and regular reader of this site.  We encourage him to stay strong and not crawl back to them groveling.  We welcome him to the rebellion — the fight to reestablish conservatism and the principles of limited government as the guiding force behind our society, our nation, and its government.