NC-08: WWJD? (Certainly not fabricate a portion of his bio)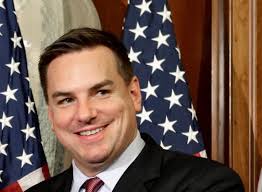 it's pretty clear from the Richard Hudson reelection campaign's mailers and TV ads that they are going to play the Jesus card for the June 7 primary.  Let's compare the rhetoric of THIS campaign to what happened in 2012:
Richard Hudson, the GOP nominee for the 8th congressional district, has been spending a lot of time raising questions about incumbent Larry Kissell's character.  We've done some digging into Hudson's own record, and it's left us asking: Is Richard Hudson fabricating his claim to be a small businessman? 

Check out the bio Hudson presents on his campaign web site:

[…]"Richard is the owner of Cabarrus Marketing Group, which provides marketing, strategic communications consulting and business development services to small businesses. […]
That's interesting.  Compare THAT description to how he described his "business" during a 2012 primary debate:
[…] Hudson, a former congressional aide turned businessman from Concord, took about 38 percent of the Davidson County vote during the first primary May 8. He finished with about 32 percent of the vote in the overall district, a few votes short of locking up the nomination.[…] 

In recent weeks, Keadle has questioned Hudson's work in Washington, where he worked for more than a decade as a district director for Rep. Robin Hayes and chief of staff for Reps. Virginia Foxx of North Carolina's 5th District and John Carter and Mike Conaway, both of Texas.

"The guy lives in D.C., and he's a Hill staffer," Keadle said. "What he says is that he's a businessman from Concord, and that's not the truth."

Hudson owns Cabarrus Marketing Group, a company he said assists multiple software clients with product implementation. However, Keadle said the company is not a "group," adding that it's not even a real business. […] 
"Not even a real business."  Hmmm.  Let's explore that a little further, shall we? :
An October 14, 2011  article in the DC-based Roll Call newspaper indicated that Hudson was "coming home to North Carolina" to run against Larry Kissell.  At that time, Hudson's most recent employment had been as a Capitol Hill-based staffer for a Texas congressman. The article does not mention any intention of setting up a business in North Carolina.  

According to the Roll Call article, Hudson filed for the 8th district seat on October 13, 2011. Records on file at the North Carolina Secretary of State's office indicate that The Cabarrus Marketing Group wasincorporated / established on October 12, 2011 — ONE DAY before he filed to run for Congress. Even more curious is the fact that Hudson's name does not appear on the corporate documents.  Zachary Moretz of Concord, North Carolina is listed as the "registered agent" for the corporation.  An Internet search finds that a number of different corporations are registered to a Zachary Moretz at the same address listed on the Cabarrus Marketing corporate documents.[…] 

We typically take what the DC Democrats say with a grain of salt.  So, we did a little searching ourselves.  We found a LinkedIn profile on Cabarrus Marketing Group.  We clicked on the link there for the company web site, and found — like the Dems said — an empty WordPress template.  How much marketing is this company doing when it can't find time between NOW and October 11, 2011 to finish its web site? Hudson sure found time to get his campaign web site set up.   Like the Democrats, we could find no evidence of Cabarrus Marketing Group participating in any community activities or doing any business with clients.

Registering an LLC and a domain name DO NOT make you a small businessman.  I hope we're wrong, but it certainly looks like Hudson is misrepresenting himself to the voters as a small businessman.  That identity will surely go over much better than "Hill staffer" or "political hack."  The Roll Call article talked about some more easily-substantiated aspects of Hudson's resumé:

[…] "Hudson, 39, who was most recently chief of staff to Rep. Mike Conaway(R-Texas) and served as campaign manager on Republican Pat McCrory's losing Tar Heel State gubernatorial bid in 2008, has a long history in North Carolina. He served as chief of staff to Rep. Virginia Foxx (R-N.C.) and district director for former Rep. Robin Hayes (R-N.C.)…[…]…
In 2016, Hudson is running in a reconfigured district against Hoke County resident Tim D'Annunzio — an actual businessman.  D'Annunzio has his quirks.  He has a reputation as a, um, "difficult person."  But are you voting for a best friend, here? 
Elaine Marshall's office eventually dissolved Hudson's "business" for failing to pay its registration fees.  And we haven't heard a whole lot about Cabarrus Marketing since.  (It served its purpose, I guess.)  The "company" website STILL looks like it did in 2012.