#nc-03: Some advice for Taylor Griffin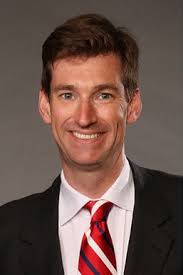 It looks like the GOP primary for US House is not going to look anything like the last go-around.  The Walter Jones campaign got caught flat-footed in 2014 and nearly paid for it. 
Jones is cruising along fine with the base in 2016.  He is consistently ranked as the — if not one of the top two — most conservative members of the state's House delegation.  His confrontations with John Boehner have him looking really good right now — in the wake of Boehner's resignation announcement. The discontent with Jones is just not there this year. 
Taylor Griffin is in real danger of becoming a two-time loser in this congressional district.  Filing doesn't take place until December.  There is still time to make a change.  And here is the change we think he should make. 
Buck Newton is vacating his Wilson-centered District 11 state Senate seat to run for North Carolina Attorney General.  We understand that Griffin's parents LIVE in Wilson.  And Griffin himself has further personal ties there. Why not close up shop in the Third and move back home with mom and dad to run for the open Senate seat?   It appears moderate Republican state Rep. Susan Wilson is abandoning her bid for the Senate seat.  So, the field looks wide open in Senate District 11.
Winning a state Senate seat would definitely bolster Taylor's political résumè.  It would provide him a jumping off point for further political adventures down the road.  Attorney General Roy Cooper was in the state Senate.  Thom Tillis served a few terms in the state House before winding up in the US Senate. Even Walter Jones honed his political skills in the state House before graduating to the US House.