Fundraising.  The campaign of Jeff Moore (R) is touting their guy's fundraising haul of $75,000 in the first week since he filed.  The DC-based Politico website is reporting that Greg Murphy (R) has surpassed the $200,000 mark in the campaign's first TWO weeks.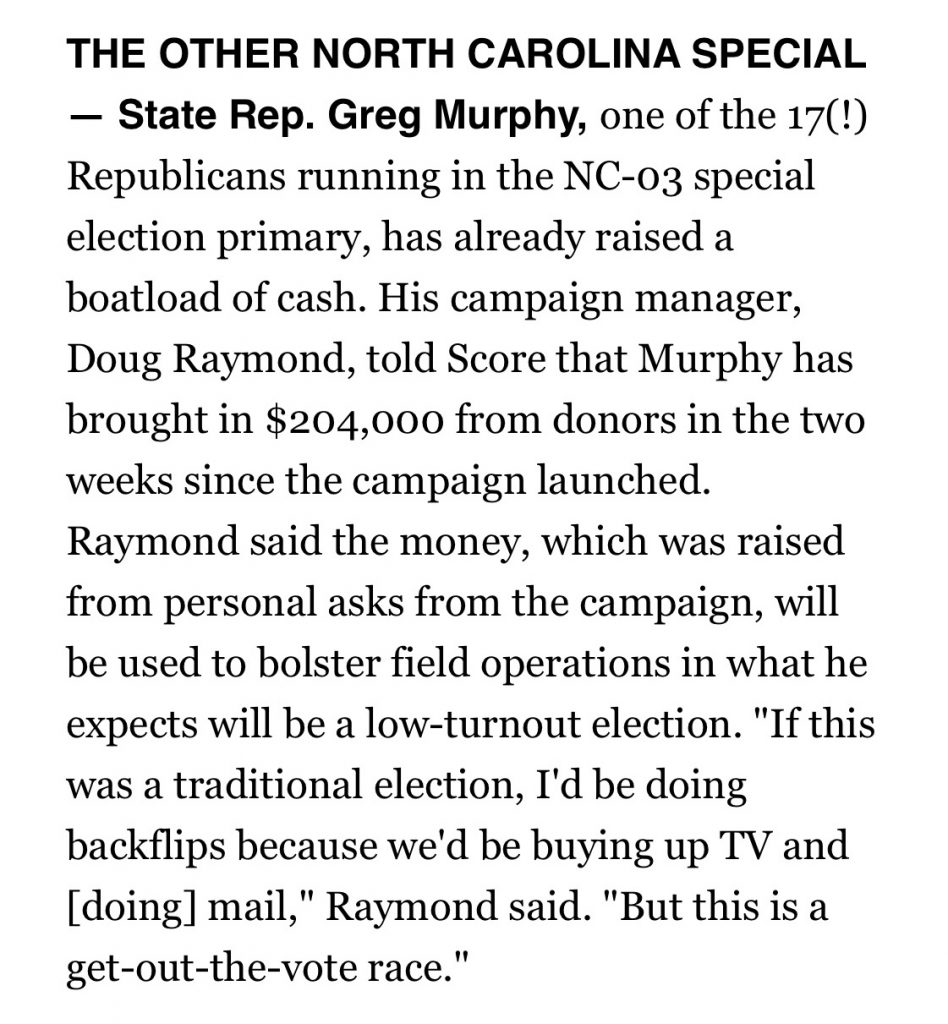 Perrys Meet The Daceys.    Dr. Joan Perry (R) of Kinston  has won the support of Craven County's Scott Dacey, who lobbies the federal government on  behalf of Indian casinos.  Dacey has a wee bit of experience with running for Congress in the Third.  He paid uber-consultant Paul Shumaker a pile of money in 2018 to come in third in the GOP primary  behind Walter Jones and Phil Law.  We understand that some alumni of the 2018 Dacey campaign have signed on to help run the 2019 Perry campaign.
Candidate Dacey made a big deal in 2018 of  his loyalty to President Trump AND the Republican  Party.  In one of her first interviews as a candidate, Perry came out in support of senator Thom Tillis's opposition  to President Trump's border wall. In 2012, Perry and her husband endorsed and cut an ad for then-congressman Mike McIntyre (D).  (McIntyre was opposed by Republican challenger David Rouzer at the time.) 
The Horse Race.  Republicans in this district have 17 candidates to weed through.  Sources we've talked to throughout the district are tending to agree on a top THREE thus far:   State Rep.  Mike Speciale, state Rep. Greg Murphy, and Dr. Joan Perry.  It appears that former NCGOP vice-chairman Michele Nix and state Rep. Phil Shepard are fading into the second tier of candidates.
There's still plenty of time.  The primary will be held on April 30.  It looks like there will be a runoff.  That will occur July 9, and will involve the top two finishers from April 30.