Snowflakes, drive-by media celebrate GIRLS in the BOY SCOUTS
Another testosterone-laden American institution bites the dust, and the snowflakes and the drive-by media couldn't be happier:
The historic moment passed with little fanfare. Troop 1, the region's oldest Boy Scout troop, welcomed its first girl members with a short ceremony and light supper on Tuesday.

Chartered by the VFW Post 7318 in Southern Pines, the five young women represent the first female-only Scouts BSA troop in Moore County — part of the newly rebranded Boy Scouts of America flagship program for older youths.

Troop 1-G will function as an independent co-troop in essence, with its own adult scoutmaster and youth patrol leader, partnering with Troop 1 for meetings and activities, including a camping trip planned this weekend. Troop 1 is chartered by VFW Post 7318 and St. Anthony's of Padua Catholic Church.

"I think this is great and it's a long time overdue," said Troop 1 Scoutmaster Dilles Walker. "As a nation, we are one of three countries where scouting is not a combined co-ed program. We are investing in our future by helping to develop these young ladies." 

The new change has not been without controversy or confusion — and a trademark infringement lawsuit filed by the Girl Scouts over Boy Scouts use of the more generic term "scouts, — but there's also been a fair bit of excitement too.

Wearing a crisp khaki uniform shirt, Elizabeth Davis, 16, is one of the first five girls to join the new troop in Southern Pines. A homeschooled high school sophomore, she enjoys playing piano, dancing and is a member of a local competitive shooting club.

"I like to be adventurous," she said. "When I learned a few months ago that Scouts BSA would accept girls, I knew I wanted to do this."[…]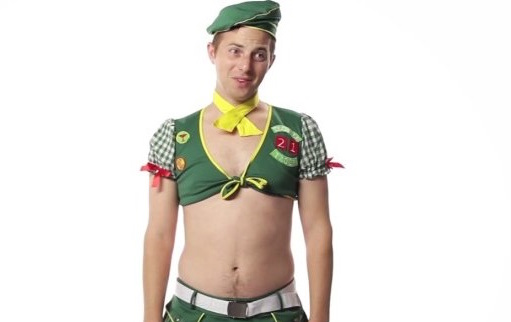 Historically-black fraternities are A-OKAY.  Historically Black Colleges & Universities can be allowed to exist AND EVEN take in tax dollars.  Women's colleges and all-girls schools are just fine.  But — an ALL-MALE institution like VMI or The Citadel?
Sue it into near-bankruptcy.  Then turn it into a petri dish for all kinds of touchy-feely social justice experimentation.
It's just another example that "male" and all things "male" are BAD and must be "properly" restructured and / or re-educated.  Or simply extinguished.
The left lusts for blurring or even erasing the lines separating genders.  That's what motivated the attacks on the very reasonable basis of HB2:  Men go into men's rooms, and women got into women's rooms.
Whether they get it away with — whether they fully accomplish their mission — is up to us and just how much we're going to smile at and tolerate.