NC-03: Just sworn in, and already gets a 2020 primary opponent
It looks like this district's reputation for Republican slugfests at congressional primary time will continue on past the Walter Jones era.  Greg Murphy — after running in a primary, runoff, AND general election — has JUST been sworn in as the district's new congressman.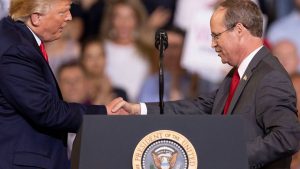 Robert Rollason of Dare County has filed paperwork with the FEC to run as a Republican for North Carolina's 3rd congressional district.   Rollason has a campaign Twitter account up and he has a Facebook page.  (We couldn't find a website.)
It appears that he and his wife run his family's real estate and residential construction business in Kill Devil Hills.  It also appears that Rollason was  part of an effort to persuade the town of Kill Devil Hills to allow backyard chickens within town limits.
Rollason advertises himself as a military veteran, a Gulf War veteran, and a huge Trump fan. After reviewing his online info, I'm not seeing what exactly sets him apart from newly-elected congressman Murphy.
Nevertheless, HERE is one of the shots he took at Murphy recently on Facebook:
[…]  I'm not a political insider. I am a working man who has lived in this area all my life. I don't have the soft hands of a doctor. They are calloused from years of labor. This is what is needed in Washington and the people of eastern N.C. deserve a voice that is intimately familiar with what effects us here in the 3rd district.
According to his FEC filing,  Rollason's campaign has $1690.92 in receipts.  All but $250 of that came from the candidate himself.
The primary will be in  March.