NC-02: Who do you hate the least?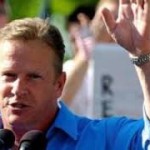 McClatchy's DC bureau has tackled the District 2 GOP primary for the US House with its usual modus operandi: Prop up the person or institution propagating the expansion and vitality of big government.
"Who's Most Conservative?" is the theme for the Renee Ellmers – Frank Roche matchup being peddled by the McClatchy crew. Ellmers has — amazingly — survived two terms in Congress by thumbing her nose at the folks who helped her slip past Bob Etheridge, gobbling up PAC money, and running ads so full of deceit and exaggeration that only this guy could appreciate.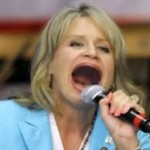 McClatchy Propagandist First Class Schoof tells us:
[…] Roche sees immigration as the nation's biggest obstacle to economic growth and prosperity. He argues that Rep. Renee Ellmers, the Republican who holds the seat he'd like to win, supports amnesty for illegal immigrants – an assertion that Ellmers denies.[…]
So, we're letting her off the hook with statements like that, in spite of evidence to the contrary like, oh, THIS, THIS, THIS, THIS and THIS? Wait.  There's MORE:
"Renee, she kept going left as I see it," Roche said in a recent interview at a coffee shop in Cary, near his home.

As proof, Roche cited a number of her votes, including her support for the farm bill – too many corporate giveaways, he said – and for the 2011 Budget Control Act, which averted default, cut spending by $1 trillion and raised the debt ceiling.
Don't forget the tax increases AND the funding FOR ObamaCare.  MORE:
But he mainly criticizes Ellmers for suggesting that immigration policy should include a way for some of the millions of people who are in the United States illegally to pay a penalty and move to legal status.

In an op-ed in The Fayetteville Observer in January, Ellmers wrote that she supports stronger border security and more enforcement of immigration laws as well as a legal status for those who acknowledge entering the country illegally and make amends.

Ellmers says that's not "amnesty" or any special "path to citizenship." But Roche argues that it is. The Randolph Tea Party recently agreed and endorsed him, saying the group opposed "amnesty or any other path for legalization of illegal immigrants."
That is a common trick used by amnesty supporters — tap dance around your true position with weasel words.  It's a lot like Thom Tillis telling us he's not for toll roads, but IS FOR HOT lanes.  (H-O-T is an acronym for High-Occupancy Toll.)
Roche hasn't gotten a lot of Republican financial support. He raised only $17,551 from Jan. 1 to March 31, below his own expectations and well under the $324,330 Ellmers reported to the Federal Election Commission in the same period.

Ellmers campaign spokeswoman Jessica Wood said Roche "is not a serious opponent as evidenced by his most recent finance report, clearly showing his lack of support."

Ellmers appears intent on not raising Roche's political status. She recently canceled an interview about her primary race and declined to reschedule it. She also has declined to speak along with Roche in several radio interviews. An incumbent often will ignore a challenger in a primary, Roche noted, and that's what Ellmers seems to be doing.
Wood?  That's the same genius who mocked openly-gay Clay Aiken's "San Francisco values."  She needs to be careful about using fundraising as an indicator of political success.  Ellmers was outraised and outspent by Bob Etheridge in 2010.   Etheridge was outraised and outspent by incumbent Republican David Funderburk in his first congressional race in 1996.
Renee's campaign report is dominated by dollars from lobbyists and other inside-the-beltway interests.  Very little money from back home — folks who can actually vote for her.  Just like David Funderburk in 1996. 
There is not a whole lot of love for Ellmers around here.  She has a haughty, arrogant personality that is hard to tolerate in one-on-one encounters. You don't see her out and about in the district.  There are plenty of stories about people seeking help from her office — only to be ignored or extremely disappointed.
That disappointment has helped rack up a number of endorsements and straw poll wins for Roche's low-budget effort.  A lot of it is clearly anti-Ellmers sentiment being put on display.  Roche has his PR problems as well.  He is the prickliest of the prickly stereotypical Yankees we locals all love to hate.  There are likely quite a few people in this district trying to decide which one of these candidates they hate the least.  
One of my political confidantes put all this in perspective quite well the other day:
"I am not voting on who I want to be my best friend or my golf buddy.  I am not saying I want to take Frank or Renee to lunch or to the beach.  I want someone who is going to go up there to DC and vote right and fight to make the government leave me alone.  Of the two, Frank is more likely to do that."
Personally, I've been disappointed in some of Roche's past antics.  But, as I've observed him during this election cycle, I've seen a new side of him.  It looks like he's "grown up" a lot and learned from his past mistakes.  Somebody appears to have been giving him some good advice.