NC-02: Money is talking in GOP US House primary race
And it is not saying very nice things about Frank Roche.   Judging from what we found on the FEC web site, the Cary Republican appears to be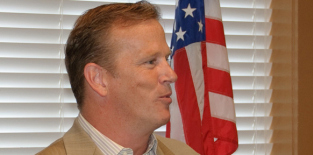 repeating his dismal fundraising performance from his 2014 run against incumbent Renee Ellmers.
The incumbent, Ellmers, is showing in her April 2015 quarterly report (1/1 -3/31):
total receipts:  $195,644
total expenditures:  $127,458
cash on hand: $220,351
Roche, for his July 2015 (1/1 to 6/30) quarterly, is showing:
total receipts: $12,792
total expenditures: $9420
cash on hand:  $3372
That's quite a bit of difference there.  Let's compare Roche in 2015 with his 2014 campaign performance:
By this time in 2014, he had raised and spent a total of $55,499. 
As of Year end 2013(10/1-12/31) :

total receipts: $2695
total expenditures: $936
cash on hand: $1758

April 2014 quarterly (1/1 to 3/31):

total receipts: $17551
total expenditures: $10467
cash on hand: $8842

Pre-primary 2014  (4/1 to 4/16):

total receipts: $3310
total expenditures: $1919
cash on hand: $10233
2014's primary ended with a 59-41 Ellmers victory over Roche.
This year, there is a third party in the primary contest that could make things interesting;  former Chatham County GOP chairman Jim Duncan.  The FEC web site does not have any financials posted on Duncan yet.  But, a source, close to the Duncan campaign, tells me it will show fundraising totals much closer to Ellmers than Roche.
Short of something stupid / scandalous happening (i.e., Funderburk in 1996 and Etheridge in 2010), the candidate with the most cash tends to carry the day.