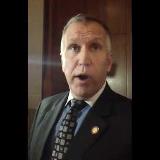 We know about our junior senator's history with embellishing details about his personal life.  We might have stumbled across another similar episode:
As the lone U.S. senator of Greek heritage, it was no surprise that Tillis was recently sought out by Katerina Sokou, Washington correspondent for Greece's venerable Kathimerini publication, and asked his view on the fiscal crisis that now grips the land of his ancestors.[…] 
Say WHAAAAAAAAAAAAAAA …???   Why is this the first we're hearing about this?  It didn't come up in his historic term on the Cornelius Town Council, his primary battle against conservative John Rhodes, or during any of his eight years in the state House.  We didn't hear about it during the epic 2014 battle he had with HAG-an and the pizza man.  (Thom is GREEK?)
We took a trip over to that magical place called Google to see what we could find about the origins of the surname Tillis:
Spelling variations of this family name include: Tillisch, Tillis, Tillish, Tillies, Tillich and others.

First found in Prussia and Denmark where the name emerged in medieval times as one of the notable families of the region. From the 13th century the surname was identified with the great social and economic evolution which made this territory a landmark contributor to the development of the nation.
Not a word about Greece there.  Anyway, we go on into this article to learn that Thom Tillis is actually an expert on his, um, ancestral homeland of Greece:
[…] "Greece has to stay in the euro," he replied without hesitation. "I met with economists on the Greek situation. Everyone agreed that the euro is the common currency [of Europe] and that Greece must remain in the European Union. A Greek exit from the EU and the euro would mean the Greek economy would be difficult to sustain."

But Tillis quickly added: "Just because Greece chooses to remain in the Euro doesn't mean things can go on as they were. The Greek government has to make major changes in its spending policy and entitlements. When I was speaker in North Carolina, the state was gripped with a deficit and we made a fundamental policy decision to adopt austerity budgets for four years.

"Today, we have one of the best performing economies in the U.S. and our unemployment dropped from 10.6 percent to 6.4 percent. Greece could learn from North Carolina."
North Carolina state government.  The national government of Greece.  What's the difference?  Of course, we all know how well that austerity went.  
Apparently his time on the Cornelius Town Board AND at the front podium in the House chamber made him an expert on all kinds of world affairs:
Other international issues come up often with the junior Armed Services Committee member. Tillis strongly believes the Russian seizure of Crimea last year was wrong and recalled how "a retired general told [the Armed Services panel] Russia could take Estonia in 24 hours if it chose to. It's very important that we step up our support for Ukraine and for the NATO alliance."

As for the Islamic State, Tillis urges "training, advising, and assistance" of allies in the Middle East to "wipe ISIS off the planet." In pursuit of that goal, he feels Turkey "can be helpful."
Apparently, somebody named "Marc Rotterman" is really impressed with ol' Thom's first six months in office: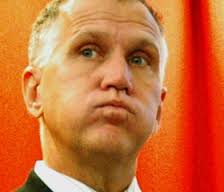 "I think the reason Thom's counsel is sought after is because of the unique experience he brings to the U.S. Senate," said veteran Tar Heel State GOP consultant Marc Rotterman.

"He was speaker of the [state] House of Representatives when North Carolina was in the middle of a fiscal crisis, and he helped get the state out of the red and in the black.

"And across the aisle, Democrats knew Thom was approachable and someone they could work with. In Washington, that's a rare commodity."