Monkey Business Report: Trump Endorsements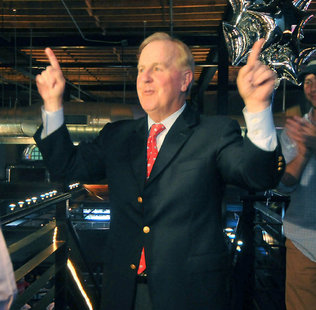 The Donald got on the phone for Renee Ellmers in the 2nd district.  Now, it appears that at least Charlotte-area politicians want in on some of that action. But, there is a problem: 
Charlotte Republican Robert Pittenger bungled questions around two high-profile endorsements Monday, one day before the Republican primary in the 9th Congressional District.

Locked in an unpredictable race against Mark Harris and Todd Johnson, Pittenger claimed Donald Trump endorsed him when Trump might not have, and he said he was not claiming Mike Huckabee's endorsement when in fact he was.

First, Trump:

Pittenger sent an email blast Monday morning claiming the presumptive Republican presidential nominee had endorsed him. "Thanks @realDonaldTrump!" Pittenger tweeted.

The endorsement, though, had come in the form of a tweet from NC Team Trump (@TeamTrumpNC), which is merely an account that supports Trump but is not actually Trump's campaign.

Pittenger then told me that the endorsement had been confirmed by Scott Mason, the congressional liaison for Trump's campaign. Pittenger's strategists said they would try to get Mason to contact me to confirm, but he never did. Trump himself had not tweeted about it by Monday night. Trump's North Carolina director, Earl Phillip, told the Observer's Jim Morrill, "My comment is no comment."

In an email forwarded to the Observer by the Harris campaign, Huckabee said he had spoken Monday afternoon to Trump campaign officials. "Corey Lewandowski, campaign manager for the Donald Trump campaign confirmed that there was NO endorsement from Trump for Robert Pittenger," Huckabee said.[…]
George Rouco, who HAD been primarying Pittenger but is now running in the crowded 13th district GOP primary field, also seems to think HE is endorsed by Trump: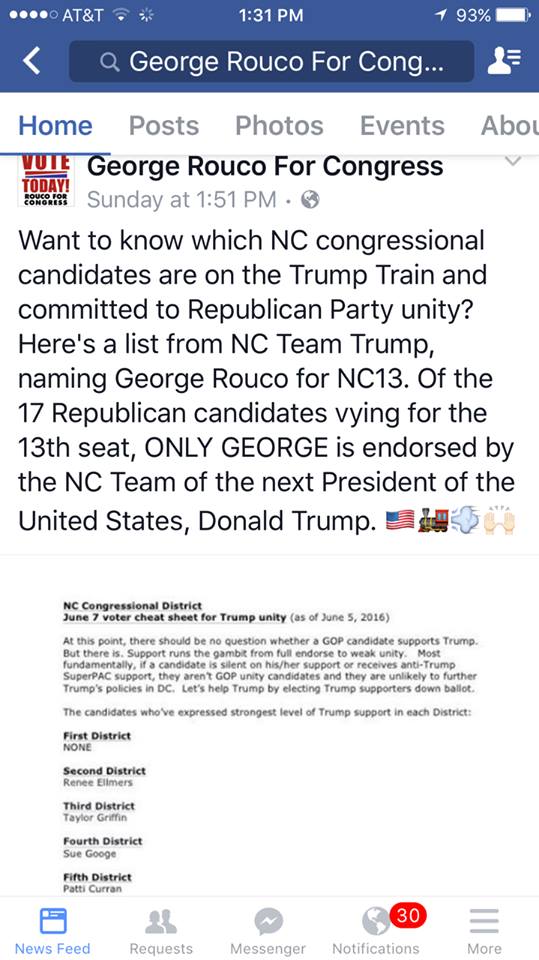 You have to give George some credit though.  He's a little more straight-forward on this than Pittenger is.  He admits it is only a "list from NC Team Trump."  That's kind of like saying 'I got endorsed by somebody who is a really big fan of Ted Cruz.'    SOOOOOOOOOO WHAT?
If you look at the original "June 7 voter cheat sheet" tweeted out by the Trump fan account, you'll note that it's little more than a list of people on the ballot today who have publicly said nice things about presidential candidate Donald Trump.