Look Who's Running 'Thangs' Now (Charlotte area makes its move in the Capital City)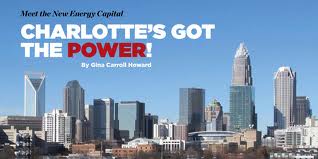 North Carolina's financial center (Charlotte) and its center of government (Raleigh) appear to be melding together or merging.  We've seen it in McClatchy buying both the Charlotte Observer and the Raleigh News & Observer.  The same editorial operation services both papers.  If you've read one paper, you've read them both. 
The Queen City's former mayor is being sworn in as North Carolina's next governor in January.  (The state's next lieutenant governor, although a Raleigh resident, is the son of former Charlotte mayor and retiring Queen City congresswoman Sue Myrick.)   Thom Tillis from Cornelius, in the greater Charlotte area, appears to be running the state House for two more years.  Recent nominations for House leadership by the majority Republicans make it clear that the Charlotte area's hand will be strengthened in the legislature's lower chamber.
Edgar Starnes, from Caldwell County (northwest of Charlotte) will be the majority leader.   Ruth Samuelson, from Charlotte, will chair the Republican Conference.   Mike Hager of Rutherford County (due west of Charlotte), a former Duke Power executive, will be the majority whip.   (Wake County's Paul Stam is the easternmost member of the new House leadership team.  He will hold the post of speaker pro tem, which is basically ceremonial.)
Over in the NC Senate, Charlotte's Robert Rucho (a Thom Tillis ally) co-chairs the powerful Finance Committee.
The North Carolina GOP is currently chaired by Robin Hayes of Cabarrus County, also part of the greater Charlotte area.  His vice-chair and aspiring successor Wayne King is from Cleveland County (due west of Charlotte).