Laying the foundation for a November blame game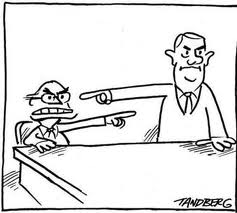 By all indications, Republicans should have a good November.  But we also thought that about November 2012.  Remember everyone saying there was no way in hell that Barry Obama would get another four years?
Well, it appears the DC establishment is laying some groundwork JUST IN CASE things don't go so well in November:
A contentious primary season has taken a toll on pro-Republican super PACs, which spent heavily on election battles among GOP candidates and are looking to November with less cash on hand than their Democratic counterparts.

The largest pro-Republican super PACs have not only raised less money than Democratic groups but spent a far larger share of it on primary fights, a Wall Street Journal analysis of campaign-finance filings shows. For the current campaign cycle through July 3, pro-Republican super PACs in the study directed more than 70% of their spending toward battles among GOP candidates, while the largest Democratic super PACs put just 9% of their spending into primaries.

The bottom line: The largest Democratic super PACs are heading into the general-election season with a combined $36 million in the bank as of their latest filings—nearly three times as much as the largest Republican political-action committees.

Thomas Mann, a senior fellow at the Brookings Institution think tank, said the spending disparity was "almost inevitable" given the divisions within the Republican Party. Democratic groups' fundraising success also indicates they are determined to protect vulnerable Senate seats, he said. "If they lose the Senate, it will not be because they have been greatly outspent," he said.
* Oh, if ONLY those silly Tea-baggers had backed off and let Uncle Karl pick all the candidates …*
Get ready folks.  It's gonna be OUR fault.