John Bradford.(NOPE.) For State Treasurer? (HELL NOPE.)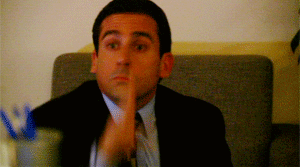 No, thank you. 
As 2024 approaches, an awful lot of folks are acting on their big – some would say oversized – political ambitions.
The Raleigh political establishment has thrown up a trial balloon about state Rep. John Bradford running to succeed state treasurer Dale Folwell – who is running for governor in 2024. (Regardless of how the election goes, Folwell would serve out as treasurer at least until the end of 2024.)
Some of you may not know Bradford.  He's a big-time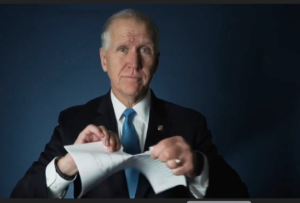 Thom Tillis stooge.  He does what he's told by The Deceitful One himself.  Bradford was Thom Tillis' handpicked favorite to fill his NC House seat when he, um, graduated to DC.
Many of you may not remember that Bradford aided and abetted the parachuting of Raleigh resident Catherine Whiteford into Cabarrus County to meddle in the open House seat race there in 2022.  (She did not survive the primary. Many observers credit her, Bradford, and the Raleigh establishment with handing the seat over to Democrat Diamond Staton-Williams.) 
It will be impossible to replace Dale Folwell in the treasurer's office.  He's done a magnificent job there during his two terms.  But we can certainly do better than trying to hold the treasurer seat for the GOP by nominating a Tillis stooge and leadership groupie.
Thanks to term limits and political ambitions, NEARLY HALF of the seats on the Council of State will have no incumbent in 2024.  There is an opportunity to substantially remake senior state government leadership in 2024.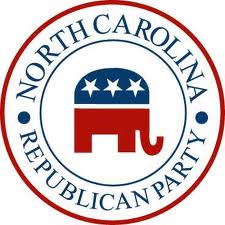 The Thom Tillis – Paul Shumaker-Phil Berger-Tim Moore cabal is certainly smelling an opportunity to expand its hold on the NCGOP.  The cabal already has a puppet in the party chairman's seat.
The governor's race is already looking crowded.  Dale Folwell is in, and Lt. Gov. Mark Robinson and former congressman Mark Walker are expected to soon join him.  There are also smoking hot rumors that agriculture commissioner Steve Troxler and Tillis himself are mulling the race over.  It only takes 30 percent of the vote to win the nomination.
Berger's political team already has a foothold within Robinson's campaign operation.  So, either a Troxler, Robinson, or Tillis victory would be seen as good for the cabal.
Two legislators are seeking the labor commissioner seat.  Ben Moss and Jon Hardister are the most prominent candidates here.  Hardister, currently the House majority whip, would be seen as a loyal ally to the cabal — especially to Moore, his current boss. 
Hal Weatherman would be the cabal's man in the Lt. Gov's race.  He owes his very livelihood to the shot-callers in the aforementioned cabal. Granted, the office has little in the way of political power. But it's another vote on the always important Council of State.
A trio or quartet in the AG's race.  The cabal has three good chances to win this seat.  State senator Danny Britt is reportedly eyeing a run. (He'd be at the beck-and-call of Messrs. Blaine and Berger.) Ray Starling, lead attorney for the NC Chamber and a former Tillis advisor, would also benefit the cabal.  And then there's Tillis pal Andrew Murray.
The only good choice for conservatives and the rest of Real North Carolina is Tom Murry. 
While all of this jockeying is going on for these seats, two very good pick-up opportunities are being woefully neglected.  State auditor Beth Wood's ongoing legal troubles and scandal as well as Elaine Marshall's radical politics make those two seats very attractive for some GOP offense.  *But apparently, it's much more fun to fall into a circular firing squad and squander great opportunities — just like in year's past.*