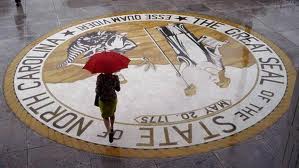 One of the oldest games in politics? Confuse low-information voters with two or more candidates in one race with the same, or similar, names.  Tom Jones and Tim Jones. Voters get confused as to which Jones they mean to vote for.  The "Jones" vote gets split. Other candidates in the race benefit.  I've seen it plenty of times over the past three decades.
Some of my moles tell me that former US attorney and former Mecklenburg DA Andrew Murray (R) spent a couple of days this past week making the rounds of the legislative building on Jones Street. He was reportedly trying to woo legislators into supporting his possible run for state attorney general.  (I'm told there was not a lot of enthusiasm from the, um, 'honorables.")
The conservative favorite in the race, thus far, is former legislator, former state courts official, and current prosecutor Tom Murry.  Ok.  Murry and Murray.  See what's going on here?
If the field is listed alphabetically on the ballot, Andrew would come just before Tom.
Andrew Murray established quite a reputation for himself in Charlotte as a soft-on-crime RINO who liked to play footsie with Democrats.  When President Trump took over in DC, our then -senators Tillis and Burr – two even bigger RINO weasels – lobbied hard to get Murray named as US attorney for the western side of NC.  Presidents typically go with the recommendations of the most senior member(s) of their party in the state's congressional delegation.  Our RINOs lobbied for their fellow RINO.
Andrew Murray had to resign his DA post in Charlotte to take over the US attorney post.  His recommendation for his replacement?  A Democrat.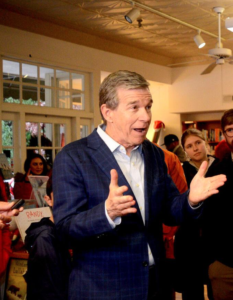 In 2021, Roy Cooper appointed Andrew Murray as "acting district attorney" to fill a void caused by a removed elected prosecutor.
One of the biggest strikes against Andrew Murray is his close close close relationship with our senior US senator. In addition to getting him the US attorney job, Tilli$$$ also helped Murray fundraise for his DA races. 
Murray also directed the prosecution of the federal bribery case centering around businessman Eric Lindberg.  A number of prominent political names got tied to the case. Then- NCGOP chairman Robin Hayes ended up with a hand-slap of a charge.  (Hayes got pardoned – likely lobbied for by Burr and Tillis – by President Trump on his way out the door.) The case against Lindberg got thrown out and is scheduled to be retried.
In addition to Murry and Murray, we've also heard about the possibility of former Tillis aide and current NC Chamber attorney Ray Starling and state senator Danny Earl Britt jumping into the GOP primary.
The Establishment would win with a Starling, Britt, or Murray victory.  Judging by the field thus far, Tom Murry is conservatism's best hope.