It's not easy being ORANGE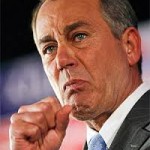 Just as we thought.  It's being reported now that the reason John Boehner hasn't brought up Mark Meadows's "vacate" resolution is that leadership is not confident they have the votes to kill it.
Only two of our TEN Republican House members are supporting the measure — Walter Jones and Meadows.  The Third District GOP has passed a resolution supporting Meadows's decision to file the resolution and is asking all other Republicans to do so as well.  
The delegation's other Mark — Walker — is doing quite the tapdance on this issue ("I like Mark Meadows, BUT ….) .  Here's Walker's chief of staff: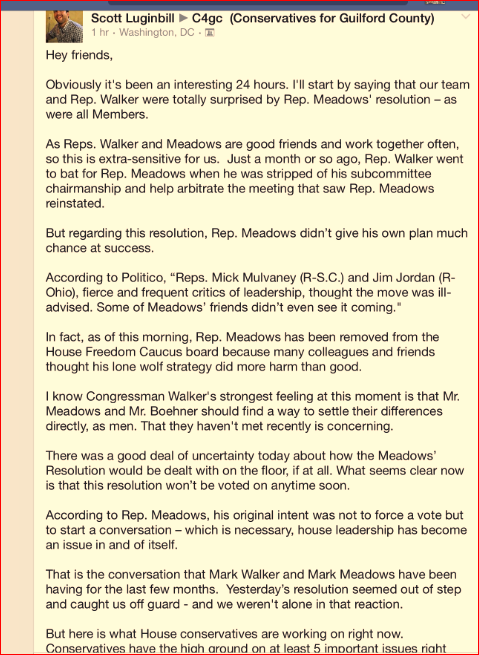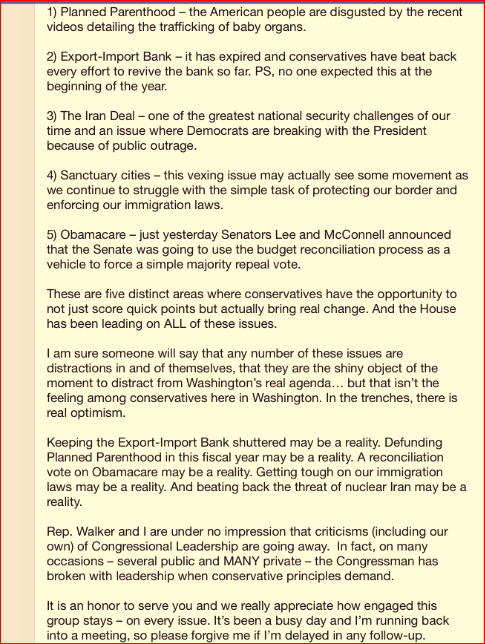 How did the rest of the delegation react?  Here we go:
[…] "Anyone sitting in Congress watching what's going on knows Washington politics is broken," said 13th District Rep. George Holding.

"I understand Mark's frustration. He's had disagreements with the leadership on issues, and so have I. And I understand he's sending the leadership a message loud and clear with his motion to vacate the chair," Holding said.

"That said, I also understand there's a big difference between saying 'I don't like John Boehner,' and saying who would make a better Speaker," Holding said.
Talk about a profile in courage.  (Go back to sleep, George.)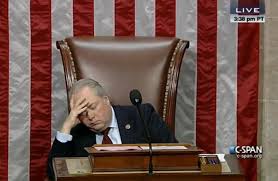 "I agree with Congressman Meadows' concerns, but I disagree on the process. This isn't the right tactic," said 9th District Rep. Robert Pittenger. "When you're on a team, I don't think it's helpful to sit there and throw rocks at your leadership. That doesn't move the ball down the field at all."

House Republicans "have been a firewall against President Obama's radical policies," Pittenger said. "To say that we should flip a switch and turn everything around at once is an unreasonable expectation."
How so?  What have you stopped?  ObamaCare? Amnesty? What? 
"I've never found it wise to publicly discuss any matter pertaining to a fellow colleague. Furthermore, it's critically important that we don't get distracted from the real issues at hand," said 7th District Rep. David Rouzer.

"In September we will take the most significant vote that has come before Congress in recent memory. Our focus throughout August should be on the administration's horrific agreement with Iran," Rouzer said. "If Congress does not defeat this agreement, there will be severe consequences for all of us — and every generation to come."
Kinda like amnesty and ObamaCare, huh? 
Rep. Richard Hudson of the 8th District did not respond to a request for comment. He did tell Bloomberg News that he opposed Meadows' resolution, agreeing with Rouzer that it would divert attention from the Iran agreement.

The remaining members of the Republican congressional delegation — Reps. Renee Ellmers, 2nd District; Mark Walker, 6th District; and Patrick McHenry, 10th District, did not respond to requests for comment.
Hmmm. It's pretty important for the voters of the Second District to know how their representative feels about the caliber of John Boehner's leadership.  Does Renee believe he's doing great, and needs to stay in place?  I wonder what Jim Duncan thinks about all of this?
"Representative Meadows has said he wants to have a 'family discussion' about making sure all Republican voices are heard. If that was his intent, he should have brought his concerns before the House Republican Conference instead of publicly dividing the party, which only helps Democrats and hurts conservatives," Foxx said.

House Republicans "will continue to advance conservative solutions that build an opportunity economy, empowering all Americans to pursue their own future, reach their full potential, and achieve a better life," Foxx said.
I wonder what Pattie Curran thinks about those comments.
Try as they might, the GOPe will have a tough time selling this "vacate" idea as extremist.  I've run across people nowhere near as conservative as I am, who range from indifferent about Boehner to wanting to ride him out of town on a rail.  The honorables may be trying to protect their campaign cash and committee assignments, but having Boehner's six is not about looking out for the people back home.  Don't let them kid you.