FreedomWorks: Two more years of Walter, please.
FreedomWorks, one of the nation's leading Tea Party organizations,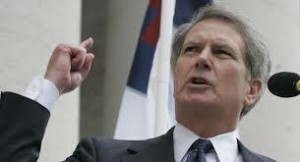 has formally endorsed congressman Walter Jones for renomination and reelection in North Carolina's 3rd congressional district.  Here's what they had to say:
This week, FreedomWorks PAC announced its endorsement of Rep. Walter Jones in North Carolina's 3rd Congressional District. Jones has long been an independent thinker in Congress, never content to toe the party line. He was one of the 25 Republicans who voted against John Boehner's reelection as Speaker of the House, and has never shown any qualms about going against leadership. For the past three years, Jones has won our annual FreedomFighter Award for scoring over 90 percent on the FreedomWorks Congressional Scorecard. He's been a principled opponent of ObamaCare and wasteful spending, and has voted to support your civil liberties against government surveillance again and again.
Jones is one of three candidates on the 3rd district's GOP primary ballot.  Taylor Griffin and Phillip Law are the other two.