Ellmers looking weak in congressional money chase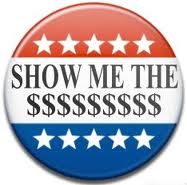 The most recent round of campaign finance reports indicate a weak showing for North Carolina's freshman U.S. Rep Renee Ellmers (R-Dunn).  Ellmers, representing the state's Second District (which should include Moore County if the current redistricting plan stands), has turned in a report showing her raising only $97,000 during the third quarter of 2010.
History shows that is takes AT LEAST $250,ooo to run a credible race for the U.S. House.  Ellmers still has time to make up for her slow start.  But this time of year is when potential challengers decide whether or not to file.  A strong fundraising performance does a good job of chasing away strong, credible challengers:
Still, a bad fundraising period is like a bad political report card for first-termers, and can go a long way toward determining their electoral fortunes. It's often during the winter months that prospective challengers – both Democrat and Republican – decide whether to launch bids, and how much money an incumbent has raised can play a major role in their decisions. A few freshmen who have struggled with fundraising, Indiana Rep. Larry Bucshon and Tennessee Rep. Chuck Fleischmann, have already drawn serious primary opponents.

"I think anytime a candidate shows they are missing a beat in preparing for the next cycle, there is the real potential for their standing to be raised on the target list," said former Pennsylvania GOP Rep. Phil English, a Washington-based lobbyist who is active on the fundraising circuit and who is informally advising some freshmen. "If a candidate comes in with a slow quarter, it may signal that they are not running for reelection or are running into problems."
Showing weak numbers at this time of year is just like BEGGING for an opponent in 2012 — a Democrat in November or a Republican in May.  The majority of the population in the new 2nd district will be in Moore, Lee and Harnett counties.  A strong candidate from any of those counties could make it interesting for Mrs. Ellmers in May or November.