BarryO invades North Carolina AGAIN (Where's Bev?)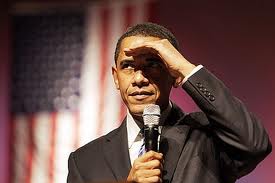 We didn't ask for it, but we got it ANYWAY.  BarryO is rolling across the western end of our lovely state with his gas-guzzling, carbon-footprint-expanding bus doing damage control to try to avoid his inevitable eviction from public housing in November 2012.  The N&O is dutifully reporting the action as though he's receiving a hero's welcome.  (Never mind that his stops are being limited to high school assemblies and college towns.)
Here's how the action went in Jamestown (the hometown of GOP governor hopeful Pat McCrory):
President Barack Obama in Jamestown.

At 11:03 a.m. the motorcade was underway to the Ragsdale YMCA gymnasium for the president's next speaking event, reports Mark Binker, of the Greensboro News and Record in his pool report.

At 11:16 a.m. someone started a "Fired Up, Ready to Go" chant in the gymnasium. Immediately afterward, Linda Phillips, a Ragsdale High School teacher began her introduction of the president.

At 11:20 a.m., the president arrived in the auditorium.

The president spoke at a podium in front of a "American Jobs Act" banner. Above that banner, there were two American flags and two NC flags. On the wall to his left there were one big American flag and one big North Carolina flags.

Obama acknowledge Phillips, Congressman Mel Watt and Jamestown Mayor Keith Volz.

Volz, the president reported, that Volz told him there were some good golf courses and restaurants down here.

"I'm going to have to sample both next time I'm here," Obama said.

The president also mentioned that he had some North Carolina barbecue and sweet tea yesterday, as well as some hushpuppies.

"Don't tell Michelle," the president said, referencing his wife.

He then launched into his stump speech, comparing and contrasting his jobs plan with plans put forward by Republicans. The president said that the Republican plan would "gut" environmental regulations, roll back Wall Street reforms and repeal health care reform – which prompted "booos" from the audience.

"That's a plan, but it's not a jobs plan," Obama said.

As he did Monday, Obama said of Congress, "We're going to give them another chance to do the right thing." Mentions that his jobs plan will be split into pieces.

"The first vote we asked Congress to take is scheduled for later this week," Obama said. The first part of the bill would allow local governments to hire more teachers, firefighters and police officers.

The president said that North Carolina had laid off 2,000 teachers this year.

"Your governor has been fighting these education cuts," Obama said.

The president also called for more infrastructure investment by way of a part of his bill that would also put some unemployed workers back on the job. Countries like China, he said, were jumping ahead of America in building roads and high speed trains.

"That doesn't seem to me like the American way – We used to always have the best stuff," he said.

While upper-income earners would pay more under his Jobs plan, Obama said, more Americans would pay fewer taxes due to payroll tax cuts.

"The vast majority of Americans would see a tax cut under this bill," he said. He added, "He added that voting no on the Jobs bill is voting in favor of middle class families taxes going up."

The president called on the audience to push Congress to pass his Jobs bill.

"When we confront tough time, we don't give in to what is. We think about what ought to be…Now is the time to say yes we can." he said.

Obama concluded his remarks at 11:47 a.m. and then went to shake hands in the crowd as loudspeakers played "Stars and Strips forever."
Speaking of our governor, why wasn't Boss Bev tagging along with — according to The N&O — North Carolina's favorite political leader?  Where was the boss lady?  Another N&O correspondent had the answer:
Gov. Bev Perdue and Commerce Secretary Keith Crisco led a discussion today with business and education leaders in Beijing about opportunities for Chinese students at North Carolina colleges, according to the governor's office.

The forum was hosted by New Mind Education, a Raleigh company that helps Chinese students succeed in American colleges. Perdue used the event to promote Tar Heel schools as a destination for Chinese students.

"Today's event was an opportunity to both help a great North Carolina company grow its business in China and to show off our colleges and universities to Chinese students an leaders," Perdue said in a statement. "In addition to paying out-of-state tuition and bringing revenue to our state, international students increase campus diversity and help foster a greater understanding between our countries."
Wow.  That sounds like a highly vital mission on behalf of the people of North Carolina.  I am sure NO ONE ELSE   in Raleigh could have handled this.  Isn't it interesting that Boss Lady decided to take this highly vital trip — just about the furthest you can get from NC —  at the EXACT same time BarryO, the smartest and most popular president ever, would be invading our state with his gas-guzzling, carbon-footprint-expanding campaign bus?
Could it be that Boss Lady recognizes she is already treading water politically, and wanted to avoid having a 180-lbs. lead weight from 1600 Penn dropped on her head?