Ellmers: Heritage Action = Hypocrites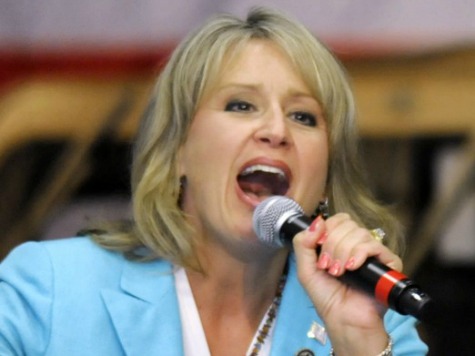 Second District  congresswoman Renee Ellmers hosted a town hall meeting in Pinehurst Tuesday night.  And, of course, we were there with a camera rolling.
During the more than 150-minute event, Ellmers responded to critics who question her — and her colleagues' — level of conservatism:
"How do you tell who is more conservative? Is there a mood ring out there somewhere?"
Dee Park, a local activist affiliated with Heritage Action for America, had a nice comeback (roughly at the 1hr, 35 minute mark on the video) :
"Heritage Action has a nice mood ring on their web site.  It says you're a 57."
Heritage ranks members of Congress on a scale of 1 to 100 — with 1 being ultra-liberal and 100 being ideally conservative.
That comment from Park appeared to set Ellmers off:
"I understand you are a fan of Heritage.  I was too. I still hope to work with Heritage Action.  The problem is – they score against things, Republicans, and they're kinda hypocrites when they do it. They pick and choose what to score."
(Never mind that Renee ran a campaign ad in 2012 touting her conservative ranking from National Journal. Those rankings are apparently OK when they say the "right" thing.)
Ellmers points out that Heritage Action supports the effort to defund ObamaCare via the upcoming continuing resolution — a move she opposes.  She alleges that Heritage has targeted some Republicans who have officially signed on to the move, and is NOT targeting some who have NOT signed on:
"They're all about raising money so they can stay relevant."
(And what are you doing, sweetheart?)
Ellmers also had words for FreedomWorks for encouraging activists to protest at Senator Richard Burr's office:
"Why are they going to Burr's office?  Why not Kay Hagan? She's up for reelection, and she was the deciding vote for ObamaCare."
This is not the first time Ellmers has taken Heritage to task. Heritage responded to those attacks by releasing audio of Ellmers speaking at Heritage in 2011, praising Heritage and enthusiastically endorsing the idea of defunding ObamaCare via a continuing resolution.
To me, it seems like Ellmers is hearing some heavy footsteps approaching from the rear.  I have really good information that a highly-respected, very viable resident of the Second District will be announcing a primary challenge to Ellmers next week.  It is also my understanding that groups like FreedomWorks, Heritage Action, and The Club For Growth are aware of this primary opponent — and are very supportive.