(*Cough*) Hillary is (*Cough* *AACK!*) Here.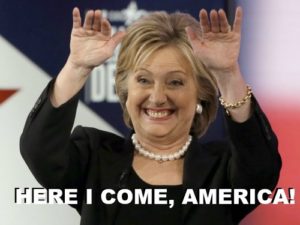 President Pneumonia and her pantsuit landed their broom in Guilford County yesterday evening.  Oh, and guess what she had to talk about: 
Democratic presidential candidate Hillary Clinton sought to steer her campaign back on track Thursday as she returned to North Carolina with what she described as a new focus – and a slap at the state's controversial House Bill 2.

Her visit to UNC Greensboro came a day after the Atlantic Coast Conference canceled its football championship in Charlotte and two days after the NCAA canceled a series of championship games in the state.

"If anyone wonders what the costs of discrimination are, just ask the people and businesses of North Carolina," she said. "Witness what's happening with the NCAA and the ACC. This is where bigotry leads, and we can't afford it, not here or anywhere else."[…]
Of course, our *ever-diligent* drive bys didn't bother to ask Hillary about the millions she has raked in from leaders of countries that do things to gays like, oh, throw them off buildings, hang them, and decapitate them.  That kind of behavior is a wee bit more extreme than making boys use the boys restroom, eh? 
If you're interested in the actual FACTS about HB2, watch Lt. Gov. Dan Forest HERE.
Back to Greensboro.  Ma Clinton was just getting started with her screeching: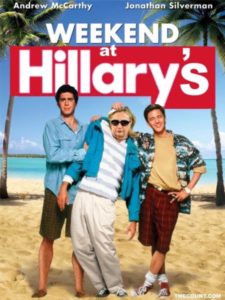 […] Talking about children and struggling families, she said she's also "running for the LGBT teenager here in North Carolina who sees your governor sign a bill legalizing discrimination."

 

The rally that drew about 1,500 people

was Clinton's first public appearance since it was revealed that she had been diagnosed with what her doctor called mild pneumonia. She entered the UNCG student center to the strains of James Brown singing "I Feel Good."
Fifteen hundred?  TEN THOUSAND PEOPLE has been a small crowd for Trump during his visits to North Carolina.  And the drive bys want us to believe SHE is winning the state. MORE:
Clinton has been criticized for being slow to disclose her illness, which raised questions about her health. Speaking to reporters later Thursday afternoon, she said, "Look, this was an ailment that many people just power through, and I thought I would as well.

"I didn't want to stop. I didn't want to quit campaigning. I certainly didn't want to miss the9/11 memorial. … It didn't work out. So I got the antibiotics up and going, got the rest that I needed and moved on from there."

Clinton began her 22-minute speech by mentioning her illness, and said there are millions of Americans who can't take time off to recover as she did.

"They either go to work sick or they lose a paycheck," Clinton said. "They toss back a Tylenol and they chug orange juice. For millions of moms and dads, if they get sick there is no backup. That's the story of too many people still in America."

Questions about her health punctuated a difficult week for the Democratic candidate, with Republican Donald Trump narrowing her lead in some polls and even leading in key battlegrounds. Trump is expected to campaign in the Triad next week.

Clinton's appearance followed her comment at a fundraiser last week when she said half of Trump's supporters belong in a "basket of deplorables." She didn't reference that controversial remark Thursday, though the Trump campaign did.

"Hillary Clinton's visit to Greensboro couldn't be timed any worse, coming right after she let slip to a group of fat cat donors at a Wall Street fundraiser that she views half of the American electorate – including millions of veterans, police officers, firefighters, and working moms – as either 'deplorable' or 'desperate.'" Trump campaign state director Jason Simmons said in a statement.

On Thursday, Clinton criticized Trump, who she said holds opposite positions on everything from climate change to national security. She alluded to his recent comments that he would shoot Iranian ships "out of the water" if they harassed American ships.

"He would start a war over that," Clinton said. Later in her speech, she called Trump a "loose cannon" who would risk "everything that generations of Americans have built."
This comes from a woman who wouldn't lift a finger to help our people under siege from Islamist thugs in Benghazi.  Why have a Navy if you aren't going to respond to harassment and attacks?