Club For Growth: Foxx, Meadows, Jones MOST conservative NCGOPers in House for 2014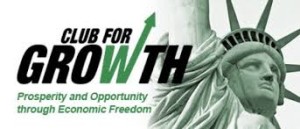 Each year, you have all kinds of groups ranking members of Congress according  to their voting records.  The Club For Growth, for instance, champions the concepts of limited government and fiscal conservatism.  That organization ranks members of the House and Senate from 1 to 435 — best to worst — according to how well they adhere to those concepts.  (A #1 ranking makes you an ideal conservative on fiscal issues, while a #435 ranking makes you a complete commie.) 
Michigan's Justin Amash (R) is the Club's top choice for 2014.  They've ranked him #1, with Jeff Duncan (R) of South Carolina coming in a close second.  You have to look down the list all the way to #31 before you see your first Tar Heel pol — Virginia Foxx.  
Mark Meadows (R-NC-11) comes in at #37, with Walter Jones coming in close behind at #39.  George Holding followed at #43 and Robert Pittenger tailed him at #48.
Patrick McHenry, also the House's chief deputy whip, came in at #65, and his buddy Richard Hudson came in close behind at #68.
Howard Coble finished up his career with a #154 ranking, while Renee Ellmers rounded out the group at a dismal #173 ranking.
Over in the Senate, Richard Burr came in at #21 of the 100 members of that body.  Kay Hagan finished her career in that body ranked #67.   For South Carolina, Tim Scott (R) was ranked #10, and Lindsey Graham was ranked #35.
Here are the key votes used to compile the rankings for House members.  Here are the key votes used for the Senate rankings.