Budd defends women's sports from the tranny invasion
Once again, our junior US senator is on-the-ball on the whole effort by the tranny lobby to upend our culture.  Ted Budd spoke out against tax dollars being used for gender transitioning minors.  His colleague Thom Tillis, and his fellow North Carolinians in the House, were nowhere to be seen.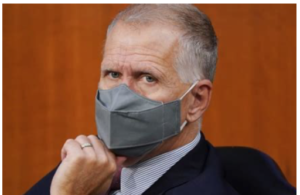 Now, Budd is joining the fight to protect female sports teams from tranny incursions.  Once again, he is the only North Carolinian out there.  (Where is Thom Tillis?  Probably getting another award from Michael Whatley and his RINO cabal.) :
Twenty Republican senators asked the Biden administration on Monday to withdraw a proposed rule that would override state laws banning males from playing on female sports teams, and instead allow schools to create rules on a case-by-case basis, the Washington Examiner reported.

The proposed regulation is an extension of the Biden administration's reshaping of Title IX's definition of sex discrimination to include "gender identity," a far-left belief that people are able to choose which sex they identify apart from biological reality. The regulation description states that the rule would "set out a standard that would govern a recipient's adoption or application of sex-related criteria that would limit or deny a student's eligibility to participate on a male or female athletic team consistent with their gender identity."

"The proposed regulation would clarify Title IX's application to such sex-related criteria and the obligation of schools and other recipients of Federal financial assistance from the Department (referred to below as 'recipients' or 'schools') that adopt or apply such criteria to do so consistent with Title IX's nondiscrimination mandate," the regulation summary states.

In a letter to Department of Education Secretary Miguel Cardona, the Republican senators argued that the rule goes against the intended purpose of Title IX to protect women and girls. 

"Congress made clear that its intention in passing Title IX was to prohibit discrimination against women participating fully in all aspects of athletic and academic opportunity at institutions that received federal financial assistance," the senators wrote. "This proposed rule uses weakly-associated case law and polarizing social concepts to broaden the definition of women and girls to include individuals who identify as women, and in doing so, the intent of the law is destroyed and women are marginalized yet again."

The regulation information page states that the Department of Education "recognizes that prevention of sports-related injury is an important educational objective in recipients' athletic programs and that—as courts have long recognized in cases involving sex-separate athletic teams—fairness in competition may be particularly important for recipients in some sports, grade and education levels, and levels of competition."

"The Department anticipates that some uses of sex-related eligibility criteria would satisfy the standard in the proposed regulation in some sports, grade and education levels, and levels of competition," the page states.

But the senators argue the proposal would result in more discrimination against female athletes.

"This proposed rule reverts the playing field to a time before Title IX's enactment and will cause irreparable harm to women entering academia and athletics," the senators said in the letter. "We urge the Department to immediately withdraw this proposed rule and work with Congress on strengthening the statute that made it all possible for women to have equal rights in education."

The letter was led by Sen. Tommy Tuberville (R-AL) and joined by Sens. Marsha Blackburn (R-TN), Kevin Cramer (R-ND), Mike Braun (R-IN), Roger Marshall (R-KS), Rick Scott (R-FL), Joni Ernst (R-IA), Mike Lee (R-UT), Pete Ricketts (R-NE), Mike Crapo (R-ID), Cindy Hyde-Smith (R-MS), Markwayne Mullin (R-OK), Jim Risch (R-ID), Steve Daines (R-MT), Roger Wicker (R-MS), John Barrasso (R-WY), Cynthia Lummis (R-WY), Ted Budd (R-NC), Ron Johnson (R-WI), and Bill Cassidy (R-LA). 

The senators' letter comes after 25 Republican governors sent a letter to Cardona on Friday asking that he withdraw the proposed rule, stating that it would "prevent states from enforcing our duly-enacted statutes protecting fairness in women's and girls' sports."

"Indeed, under threat of denying essential school funding, the Department's proposed regulation would attempt to coerce compliance with an uncertain, fluid, and completely subjective standard that is based on a highly politicized gender ideology," the governors argued. "Most troubling, the proposed regulation would turn the purpose of Title IX on its head and threaten the many achievements of women in athletics."

Monday was the last day for the public to submit a comment about the proposed rule. The rule was reportedly "inundated" with more than 150,000 comments ahead of the deadline, according to USA Today. 

"Advocates for transgender students have applauded the Biden administration for being well-intentioned but largely have critiqued the proposal, arguing it doesn't go far enough to ensure transgender students are protected from discrimination on athletic teams. Some of them have said the wiggle room schools have could further increase discrimination. Others questioned how schools will be held accountable for how they implement the rules," according to the report. 

"Those who oppose the proposal said it axes protections for girls and women on school sports teams and could put those students in danger," the report continues. 

The Department of Education with ultimately craft a final regulation after considering comments. 

"Once finalized, schools, under the department's proposal, wouldn't be able to make blanket bans on allowing transgender and nonbinary students on sports teams. The proposal would alter federal Title IX law, which prohibits sex discrimination in schools that receive federal funding," the report noted.