Blue Cross NC calling in its chits on Jones Street
If I've said it once, I'll say it again:  We have the BEST legislature money can buy.  
Despite what you're told on the campaign trail, nothing is really done "for the people." Nothing is truly done for "the good of North Carolina."  Nothing is done to honor "promises made to voters." It's ALL being done for the benefit for the BIG DOGS who employ all those lobbyists and write all those big checks.  And don't you forget it. 
We told you before about a big money and power grab being orchestrated by Blue Cross of North Carolina.

Basically, here is what's happening.  Blue Cross NC has racked up about $4.6 BILLION in reserves. That's all money paid in by policyholders.  The state department of Insurance has argued that Blue Cross should kick at least some of that back to its customers.  Blue Cross has reportedly and repeatedly balked at that idea.
Instead BCNC is turning to the legislators it has bought off — and there's A LOT OF THEM on both sides of the aisle — to concoct a sweetheart deal for the company. Bills have been introduced — HB 346 and S296 — which allow Blue Cross NC to set up a shell company where billions in reserve cash can be parked. That shell company would be pretty much free of regulatory oversight.  There would be few if any restrictions on what Blue Cross could do with the cash.  *What could go wrong?*
The House version went before the House Health Committee this morning.  I talked with one member of the committee who told me: "The instructions from the speaker's office were to –regardless of our personal feelings on the bill — shut our mouths and vote YES."
This House member told me the legislation is likely Blue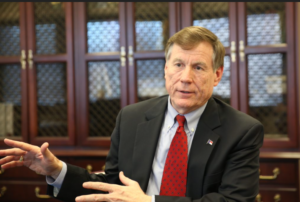 Cross's way of making up for all of the money they will be losing once Aetna takes over for them managing the State Health Plan.
Insurance Commissioner Mike Causey was in this morning's Health Committee hearing.  We caught up with him later to get his two cents on this cash grab by Blue Cross:
"This is a bad deal for Blue Cross policyholders. Their insurance rates will go up.  There will be no accountability for this shell company and the money shifted over there.  And there will be little to no transparency. There pretty much will be no regulatory oversight. So a lot of us will never really know what's going on inside a significant chunk of the company.

 Blue Cross could have done some good and passed some savings onto their loyal customers, refunded some of the money they paid in.  But they decided to go the selfish route with pet projects and executive bonuses and gosh knows what else."
Berger and Moore are both cheerleading for this deal.  The only way to stop it is to pressure your individual legislators before it is too late.