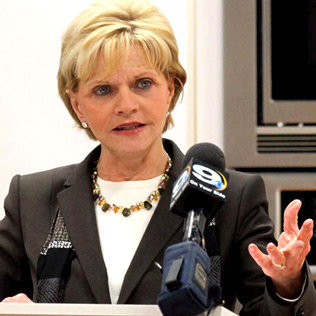 Reports are swirling through state political circles and political media that Bev Perdue will announce, at a press conference later today,  that she will not seek reelection as governor.  A  high-profile southeastern North Carolina Democrat, who also happens to be a good friend, told me he got a call about this from a party source in Raleigh last night.
Was she pushed out by the national party?  It's pretty clear the DNC is targeting North Carolina in 2012.  Polls have shown Bev consistently underpolling BarryO in the state. The DNC convention will be in Charlotte this summer.  Perhaps national leaders were seeing Bev as a drag on their presidential campaign efforts.
Could there be impending legal troubles for our boss lady?  Three of her closest campaign aides from 2008 have been indicted.
Are state Democrats concerned that she could be a drag on their fortunes as they prepare for what already looks like a rough year for them?  Is she being pushed by forces in Raleigh?
This certainly changes up the game plan for the NCGOP and presumed GOP gubernatorial nominee Pat McCrory — who recent polls show with an 11 point lead on the boss lady.
Recent moves by high-profile Democrats may offer some potential clues as to the party's next move.  Lt. Governor Walter Dalton (D) has had several successful high-dollar, highly-publicized fundraisers recently. Dalton has been rather low-key during Bev's term in office, keeping his head down while staying away from controversy.  He has a lot of appeal to conservative eastern North Carolina Democrats who have been flirting with McCrory.
It also hit the news today that Congressman Brad Miller (D-Raleigh) is not running for re-election.  He has been representing District 13, which has been altered from being strong Democrat to strong Republican.  Miller's home had been put into District 4, represented by David Price.  Polls showed that Miller would lose horribly in a primary with Price.
Miller is a former state senator.  He blogs frequently with the liberal site The Daily Kos, and has a following among the Triangle's yuppie left. Miller is a well-read, intelligent guy who speaks well.  He is a known quantity with the Democrat caucus on Jones Street. Are we looking at a potential Miller for Governor campaign?
Another likely scenario could be Dalton moving up to the governor's race, and Miller filing for Lt. Governor.  If the state Democrats take either of these two routes, the campaign against McCrory and the NCGOP would be much more competitive than it would be with Bev staying put.