Bev, bipartisanship, and those silly – silly – silly elections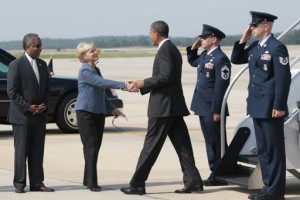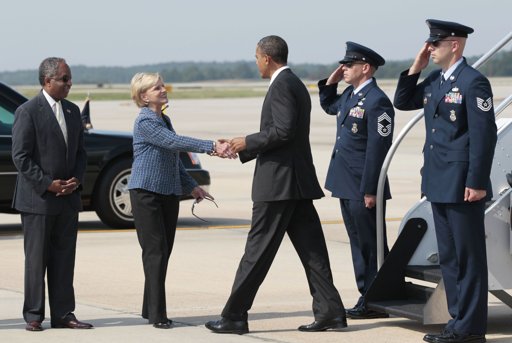 Well, Madame Governor got us some national news coverage on Tuesday that made us look *VERY WISE* for making her our boss lady.
"Dem Guv calls for 'suspending elections' " screamed the banner headline on The Drudge Report.  The headline was accompanied by a photo of  Miss Bev (and some dark-skinned gentleman in a suit) greeting BarryO as he was stepping off of Air Force One at RDU recently.
( As you can see from the accompanying photo, Madame Governor put a lot of thought into her wardrobe.  She looks like she's making a run to Harris Teeter for groceries — instead of welcoming the president and Air Force One to North Carolina.  Also, where were the rest of the Dem bigwigs?  The guy with Bev is clearly not Lt. Gov. Walter Dalton. I don't see any Members of Congress, or legislators.  Just Madame Governor and Barry-O, and the other dark-skinned guy.  Kinda *surprising* no one else wants to go welcome the guy three years after he won the state.  )
Surprisingly, the Drudge item linked to The Raleigh News & Observer — that perpetual love letter to all things leftist based in our state capital.  Within an hour of the story first posting,  Miss Bev's damage-control team (very busy these days, by the way) had their comrades at the N&O change the headline to reflect the "fact" that she was "joking."
N&O editor Dan Barkin tried his best to pull off a little spin to defend the changing of the headline:
John Frank, one of our politics and government reporters, posted to the Dome blog a remark by Gov. Perdue at the Cary Rotary Club to the effect that they ought to suspend congressional elections for a couple of years so the lawmakers can focus on the economy and not getting re-elected.

This got picked up by the Drudge Report, one of the most popular web sites on the planet not involving porn.

Right now there's a big headline on Drudge: "Dem Guv Calls for Suspending Elections" below a pic of  our Dem Guv greeting President Obama at the airport recently.

Which doesn't precisely convey the levity in her remarks, but we'll run our site and let Matt Drudge run his.

Anyway, John's little Dome post got about 90,000 page views in 90 minutes by being linked off  Drudge. It is up to 228,000 as of around 8 p.m. – DB

I will say that as a former Rotarian, usually the meetings involve singing things like "Oh, Susanna" and not the kinds of things that get you on Drudge. This may be the first viral Rotary Club story.
Funny.  Barkin sounds positive that Bev was joking.  
Several other items
posted by staffers on the N&O's website that day don't seem to be so sure on that point.  Barkin slams Drudge for allegedly twisting a headline to make Madame Governor look bad.  He and his comrades had nothing near those concerns for Rick Perry over the four days they made hay over that bogus "hating North Carolina barbecue" item.  (Of course, you have to have the right letter in parentheses next to your name to get compassion and fairness from the folks in The N&O newsroom.)
As a service to my readers, here are the remarks Madame Governor made to the Cary Rotary Club, as transcribed by The N&O:
"You have to have more ability from Congress, I think, to work together and to get over the partisan bickering and focus on fixing things. I think we ought to suspend, perhaps, elections for Congress for two years and just tell them we won't hold it against them, whatever decisions they make, to just let them help this country recover. I really hope that someone can agree with me on that. The one good thing about Raleigh is that for so many years we worked across party lines. It's a little bit more contentious now but it's not impossible to try to do what's right in this state. You want people who don't worry about the next election."
(Like Castro and Hugo Chavez, huh?  They don't worry about elections, either. )  By the way it is so good to see that Madame Governor is a fan of bipartisanship.  Majority Leader Stam revealed recently that she worked with Republicans in getting the anti-gay marriage constitutional amendment referendum on the May ballot.
For Bev — as with most with her on the port side of life — bipartisanship usually occurs when you get Republicans to agree with YOUR agenda totally.  (Like, when you throw someone such as  SpeakerrrrrrrrRichardMorgan™  a big office and a car and a fancy title, and he and five friends completely sell out their fellow Republicans in the House. )
Bev sure doesn't like it when Democrat legislators work with Republicans.  Remember what happened when Rep. William Brisson (D-Bladen) was voting with the GOP on the state budget?  Bev's staff started leaking hints and veiled threats to
The Fayetteville Observer
about possibly closing a state prison in Bladen County.
You know, if I were Madame Governor, I'd be a big fan of suspending elections too.  (Check out her poll numbers.  Talk to your neighbors. Wow.)
She and the guy she's meeting at the airport in this photo are likely to be in one of those Democrat-nurtured unemployment lines following the 2012 vote.