Art Pope: Trump like George Wallace, will kill GOP down-ballot
The guy who called government borrowing millions and billions of dollars "fiscally conservative" flew out to Colorado to sip chablis with THOSE Koch brothers and shove one last knife into Donald Trump's back: 
The lakeside restaurant at dusk seemed the perfect place to end what had been a busy day here at the luxurious Broadmoor Hotel.

Across the lake, the donors to Charles and David Koch's political network were having dinner and then after-dinner drinks, with security guards keeping out interlopers and listening on their earpieces. Other guests at the grand, 3,000-acre retreat were largely indifferent to conservative and libertarian one-percenters on the western side of Cheyenne Lake as top Koch aides settled into a wooden table and ordered drinks. […]

Of the roughly quarter-billion dollars these well-heeled donors were pumping into the 2016 ecosystem, not one dime is set to go to Republican nominee Trump. "We're focused on the Senate," Koch executive vice president James Davis said when a reporter brought up 2016, parroting what would be his default line no matter the question about the White House race between Trump, a Koch enemy, and Democratic nominee Hillary Clinton. "We're focused on the Senate," Davis said again with a smile. Then, turning to his pint glass, he shook his head. "I'll be saying that in my sleep tonight," he said with a disbelieving chuckle.

That refrain about the Senate pervaded the three-day retreat here in the Rocky Mountains. From Charles Koch himself to rank-and-file donors, everyone was unified in their message that the Senate this fall matters more as a safeguard against either outcome than the White House, and that Trump was not going to benefit from this well-oiled network's efforts. […] 
Oh, the Republican-controlled Senate which has ignored ObamaCare, increased spending and regulations, and basically given Barry Obama everything he wants?  THAT ONE?  MORE: 
"I don't think we've seen anything like this since George Wallace," said Art Pope, a mega-donor from North Carolina. "My concern is Donald Trump will depress the Republican vote and hurt down-ballot candidates." With an estimated $250 million ready to pump into those lower races — including $42 million in ads for Senate hopefuls — they will have some padding. Now they just need to block out the presidential race that they find unimaginable.
Let's see.  In 1980, when Ronald Reagan was crushing Jimmy Carter, Jim Hunt  (D) was getting reelected as governor of North Carolina.  In 2000, when George Bush was sneaking past algore, Mike Easley was coasting into the governor's mansion.  In 2004, Bush won bigger and so did Easley.  In 2008, as Obama and the Democrats were crushing everyone and everything in their path, Pat McCrory almost got Bev Perdue in the governor's race. In 2012, as Obama was winning nationally, Pat McCrory got elected governor. In most cases, top-tier candidates rise or fall on their own merits. 
As someone who has a history of defending Art Pope from leftist attacks, I want to announce that I am officially DONE with him. This was a pretty cheap shot.  I'm blessing him and sending him on his way.
The guy has become so infatuated with being so close to power in state government.  As state budget director — a position where he could have pushed incredible economic reform — Pope was the mouthpiece and spearhead for the least conservative wing of the so-called "conservative revolution" in Raleigh.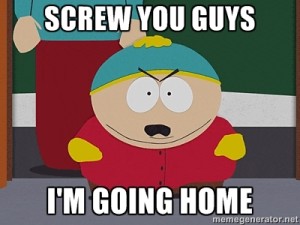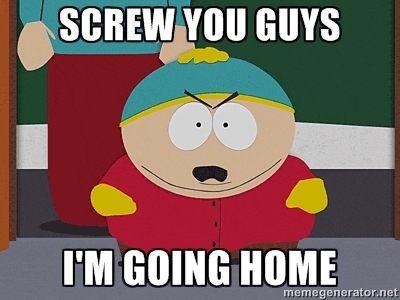 He ran around the state praising the ConnectNC spending orgy — aiding and abetting the offensive propaganda offensive promoting it.  *Big-spending, deceitfully-marketed bond packages are BAD when they are pushed by Democrat governors.  But when Republicans do it?  (As they say in Jamaica:  No problem.) *
I get it.  He wanted Marco Rubio, but that didn't work out.  Instead, he's decided to abandon his party, take his millions and go home to pout. 
If the NCGOP has a rough November, it won't have much to do with Trump.  You can more easily blame the clique that controls the NCGOP state organization, which spent the last few years stomping all over grassroots activists and even perpetrated a slander-filled coup against a duly-elected outsider state chairman.
You can blame Senator Richard Burr, who has endorsed and fought for all of these leftist judges who have thrown our state into chaos.  Who has pushed for increased spying on our cellphones and other personal devices. Who has derided attempts to fight ObamaCare and has aided and abetted increases in spending AND our federal debt. Yeah.  BLAME HIM. 
You can blame the object of Uncle Art's affection, Pat McCrory.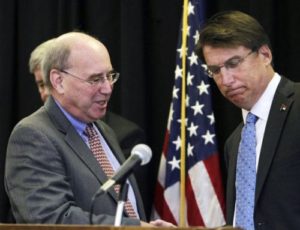 He had to be dragged kicking and screaming toward fighting ObamaCare implementation.  He's whined about budget tightening and spending cuts on Jones Street.  He's run around the state ignoring GOP activists who fought to elect him — instead scooping up money from and giving appointments to DEMOCRATS.   Blame Him.  
Uncle Art needs to give a good hard look to a state and national GOP that has thrown out true conservative reform in favor of the spoils of bureaucratic power and influence.  *Government's just fine if you and your friends are pulling its strings, eh?*