Are Richard Hudson and the GOP Establishment selling us a bill of goods?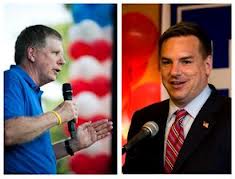 Richard Hudson, the GOP nominee for the 8th congressional district, has been spending a lot of time raising questions about incumbent Larry Kissell's character.  We've done some digging into Hudson's own record, and it's left us asking: Is Richard Hudson fabricating his claim to be a small businessman? 
Check out the bio Hudson presents on his campaign web site:
[…]"Richard is the owner of Cabarrus Marketing Group, which provides marketing, strategic communications consulting and business development services to small businesses. […]
An October 14, 2011  article in the DC-based Roll Call newspaper indicated that Hudson was "coming home to North Carolina" to run against Larry Kissell.  At that time, Hudson's most recent employment had been as a Capitol Hill-based staffer for a Texas congressman. The article does not mention any intention of setting up a business in North Carolina.  
According to the Roll Call article, Hudson filed for the 8th district seat on October 13, 2011. Records on file at the North Carolina Secretary of State's office indicate that The Cabarrus Marketing Group was incorporated / established on October 12, 2011 — ONE DAY before he filed to run for Congress. Even more curious is the fact that Hudson's name does not appear on the corporate documents.  Zachary Moretz of Concord, North Carolina is listed as the "registered agent" for the corporation.  An Internet search finds that a number of different corporations are registered to a Zachary Moretz at the same address listed on the Cabarrus Marketing corporate documents.
(FYI — the Secretary of State's web site says Cabarrus Marketing owed the office an annual report on April 15, 2012.  The web site does not indicate that one has been filed.  Under state law, that can be grounds for loss of your incorporation.)
The Democratic Congressional Campaign Committee first raised a stink about Hudson's business:
[…] Richard Hudson will be a "yes man" for Washington Republican elites and special interests.  For most of Hudson's adult life, he has worked as a congressional staffer, lived inside the beltway and lived off the taxpayer's dime. [RedState, 5/2/12; Legistorm, accessed 7/20/12; Charlotte Observer, 11/26/11]

A day before he announced his candidacy for Congress, he set up a new business, Cabarrus Marketing Group LLC, which appears to be a sham company. No news reports indicate that the company has performed any actual work, and the company's website is basically an empty WordPress template. In fact, Hudson's primary opponent went on the record as claiming that it's not a real business. [Richard Hudson Press Release, 10/13/11; North Carolina Secretary of State Filing, 10/12/11; Nexis News Search, performed 7/6/12; Cabarrus Marketing Group website, accessed 7/6/12; The Dispatch (Lexington), 6/27/12] […]
We typically take what the DC Democrats say with a grain of salt.  So, we did a little searching ourselves.  We found a LinkedIn profile on Cabarrus Marketing Group.  We clicked on the link there for the company web site, and found — like the Dems said — an empty WordPress template.  How much marketing is this company doing when it can't find time between NOW and October 11, 2011 to finish its web site? Hudson sure found time to get his campaign web site set up.   Like the Democrats, we could find no evidence of Cabarrus Marketing Group participating in any community activities or doing any business with clients.
Registering an LLC and a domain name DO NOT make you a small businessman.  I hope we're wrong, but it certainly looks like Hudson is misrepresenting himself to the voters as a small businessman.  That identity will surely go over much better than "Hill staffer" or "political hack."  The Roll Call article talked about some more easily-substantiated aspects of Hudson's resumé:
[…] "Hudson, 39, who was most recently chief of staff to Rep. Mike Conaway (R-Texas) and served as campaign manager on Republican Pat McCrory's losing Tar Heel State gubernatorial bid in 2008, has a long history in North Carolina. He served as chief of staff to Rep. Virginia Foxx (R-N.C.) and district director for former Rep. Robin Hayes (R-N.C.).[…]
Check out what the NC Free Enterprise Foundation had to say about Hudson's fundraising prowess in the fourth quarter of 2011:
"[…] It is worth noting that Richard Hudson raised more than any other congressional incumbent or challenger in the state during the 4th Quarter, even besting Rep. David Price (D) by $360. Hudson's fundraising is atypical for a non-incumbent, and is due, at least in part to the fact that he has served as a Capitol Hill aide and brings established Washington D.C. contacts with him to the 8th District race. As a result, he has raised a significant amount ($88,250) from Political Action Committees (PACs), which don't normally give substantial amounts to non-incumbents. To provide some context, 34 percent of Hudson's total receipts came from PACs, while the average share of 4th Quarter receipts from PACs reported by other non-incumbents was just 5.2 percent. Even though Hudson didn't actively raise funds during the entire 4th Quarter, his fundraising numbers resemble those of an incumbent member of Congress more than they do a first-time challenger. […]'
So, we have a GOP nominee claiming to be a small businessman with a company — by all appearances — that looks like a sham.  He has a resumé that indicates he has been a faithful lackey to some of the biggest names in the NCGOP establishment.  He's loaded with DC PAC money and benefited greatly during the primary, and so far in the general, from financial support from Majority Leader Eric Cantor's PAC.
By all appearances, Richard Hudson looks like someone the GOP establishment parachuted into the 8th district to take on Kissell.  Hudson has close ties to NCGOP chairman Robin Hayes — who is likely still bitter over his 2008 loss to Kissell.  Are Eric Cantor and Robin Hayes using Richard Hudson as a vehicle to buy control of a congressional seat?
Hudson's got a lot stronger ties to the Raleigh and DC establishment than he does to anyone or anything in the 8th congressional district.  If he wins in November,  which entity will have a higher priority with him?
It doesn't look good that Hudson is — by all appearances — misleading us about his background as a "small businessman."  Larry Kissell seems like a decent guy, even if he is WRONG on a whole lot of issues.  Does it make things better to replace him  with a guy  with a questionable resumé and dubious allegiances?