The importance of those Council of State races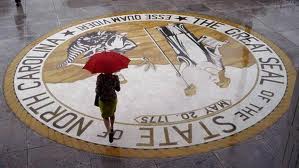 During big election years, people get excited about the candidates for president, governor, and Congress.  But when the conversation turns to races like Secretary of State, Secretary of Labor, and Superintendent of Public Instruction,  eyes glaze over, yawns break out, and looks of confusion take over.  The news media and the pundits deserve a lot of blame for this.  The nine elected positions on The Council of State play an important role in the day-to-day details of state government operations, but tend to be treated as afterthoughts in election coverage.
Article III, section 7 of the state constitution details the Council of State and calls for the election of the following officers: Attorney General, Commissioner of Labor, Secretary of State, Superintendent of Public Instruction,  Treasurer, Commissioner of Insurance,  Auditor, and Commissioner of Agriculture.   (Article III, section 2 covers the election of the governor and lieutenant governor, who also serve on the council. )
What does The Council of State do?  Here's what the General Statutes say:
Advise the governor on calling special sessions of the North Carolina General Assembly.
– Advise the governor and state treasurer on investment of assurance fund.
– Approve transfers from state property fire insurance fund agencies suffering losses.
– Approve the purchase of insurance for reinsurance.
– Control internal improvements and require the chief executive of public works to report on improvements to the council and the General Assembly.
– Approve the sale, lease and mortgage of corporate property in which the state has an interest.
– Investigate public works companies.
– Approve the governor's determination of competitive positions.
– Allot contingency and emergency funds for many purposes.
– Approve survey of state boundaries.
– Sign bonds in lieu of treasurer.
– Authorize the treasurer on replacing bonds and notes.
– Authorize the treasurer to borrow in emergency and report such to the state legislature.
– Approve the issuance of bonds, set interest rate and approve the manner of sale.
– Request cancellation of highway bonds in sinking funds if necessary.
– Approve borrowing in anticipation of collection of taxes.
– Approve parking lot rules.
– Participate in lease, rental, purchase and sale of real property.
– Approve motor pool rules.
– Approve general service rules and regulations.
– Approve property and space allocations.
– Approve war and civil defense plans.
– Approve banks and securities for state funds.
– Approve all state land transactions.
Wikipedia brings up a few more things:
Today, the Council of State meets periodically, with the Governor as chair, to allow for coordination and exchange of information across executive branch agencies and to vote on certain decisions, especially regarding the sale of state property or borrowing money. In 2007, a state judge referred to an old state law that requires the Council to approve changes to capital punishment procedures.
So, as you can see, there are plenty of opportunities to make liberal mischief.  Right now,  Democrats hold an 8-2 majority on The Council of State.  (Labor Commissioner Cherie Berry and Agriculture Commissioner Steve Troxler are the two Republican members.)  If we get a GOVERNOR  McCrory, and the partisan makeup for the rest of the council remains the same, the Democrats will have a 7-3 majority.
Former state House Speaker Joe Mavretic — a Democrat elected to the top job thanks to a coalition with Republicans — had some advice on today's edition of NC Spin for McCrory, now that he appears to be in the driver's seat in the governor's race.  Mavretic suggested that McCrory start spending some time and money on these Council of State races so that he will have some help and avoid a "four year-long headache."
Observers see Republican Mike Causey as having a better than fair shot at unseating incumbent Democrat Commissioner of Insurance Wayne Goodwin.  Causey has experience working in the construction and insurance industries — two important jurisdictions for the Insurance Department. If Causey is successful, the Democrat majority falls to 6-4.
Republican John Tedesco is locked in a tight race with incumbent Democrat Superintendent of Public Instruction June Atkinson.  If Tedesco, Causey, and McCrory are successful — and Troxler and Berry hold on — the Democrat majority disappears and we have a 5-5 tie on the Council of State.
Republican Ed Goodwin has a good shot at taking down incumbent Democrat Secretary of State Elaine Marshall.  Marshall has hugged up tight to Barack Obama, Occupy Wall Street, and just about every other leftist icon out there.  Goodwin is a veteran law enforcement officer who can strengthen the office's investigative arm — which has been conspicuously absent during recent years.   If Goodwin, Tedesco, Causey, McCrory, Berry, and Troxler are successful on November 6, that gives the GOP a 6-4 majority on The Council of State.
Republican Dan Forest is locked in a tight race with Democrat Linda Coleman for the privilege of replacing Walter Dalton in the lieutenant governor's post — the #2 job in the executive branch.  Forest has staked out positions against government funding of abortion and in favor of school choice and homeschooling.  He has verbally supported spending cuts, tax cuts and other fiscally conservative measures.  if Forest, Goodwin, Tedesco, Causey, McCrory, Berry and Troxler are successful on November 6, the GOP will have a 7-3 majority.
Republican Steve Royal is running a low-key race against incumbent Democrat state treasurer Janet Cowell.  Cowell has deep pockets, but a lot of PR problems.  Most of those problems center around her rather questionable investment of state retirement plan funds in Facebook's dubious IPO.  The state employees association is furious with her, and is withholding support.  Royal is a no-nonsense CPA with Tea Party backing.  This race — with a GOP tide helping out — could become a real David – vs. – Goliath story.   if Royal, Forest, Goodwin, Tedesco, Causey, McCrory, Berry and Troxler are successful on November 6, the GOP will have an 8-2 majority on the Council of State.
Achieving a real conservative revolution in Raleigh is going to take more than electing McCrory and holding the legislative majorities.  Achieving a GOP majority on The Council of State  will leave the leftists without a beachhead for mischief-making.