This month, the 2024 GOP race for lieutenant governor will get a wee bit more interesting.  State politics fixture Hal Weatherman – a political consultant and former aide to Dan Forest and former congresswoman Sue Myrick – has been out on the campaign trail for a few weeks.  Later this month, he will be joined in the GOP field by Allen Mashburn, a Moore County native and Randolph County pastor.   Mashburn has announced a February 25 campaign kickoff event in Asheboro in Randolph County. 
Allen Mashburn is the pastor of Asbury Baptist Church in Asheboro, North Carolina. He is affiliated with a website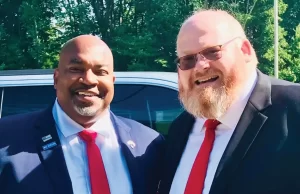 called Carolina Conservatives and co-hosts a podcast called "Preachers with a Punch."
Mashburn has a significant following among grassroots and Christian political activists statewide.  He is a long-time friend to and supporter of current lieutenant governor Mark Robinson — who is reportedly mulling a 2024 gubernatorial run. Robinson and Mashburn appear to align on most all of the major political issues out there.  
Observers see Mashburn offering a clear grassroots, outside-the-beltline style contrasting with Weatherman's blow-dried, establishment, Raleigh-insider approach.  The outsider approach sure worked well for the current occupant of the lieutenant governor's office. 
One potential hiccup / bump-in-the-road for Weatherman could be his reported ties to Greg Lindberg and the federal bribery probe that took down then-NCGOP chairman Robin Hayes.  Lindberg gave Weatherman's then-boss, Dan Forest, his largest single campaign donation for his unsuccessful 2020 campaign run.
Numerous sources tell us that the whole Lindberg affair has a significant number of Weatherman fingerprints all over it.  This info is making the rounds of state Republican circles.  Republicans not yet sold on Weatherman know about it.  Surely, the Democrats do, too.
It's somewhat of a political time-bomb. The info could be used to hit Weatherman in the primary or in the general — depending on which group has the most guts to use it.
If Mashburn and Robinson both make it to the 2024 general election, the NCGOP will literally be offering up a heavyweight 1-2 punch.  It would arguably be the most alpha-male ticket the party has put forth to state voters in a loooooooooong time.