Amnesty: Barry coming with executive action, Boehner bringing the tears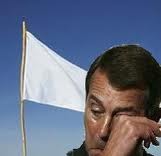 I don't know what we have to do to hammer the message home to these Republicans.  We've given them complete control of the legislative branch.  We made it clear that we do not want amnesty.
Barry Obama says he's bringing executive action to implement amnesty next week.  Republicans are already falling all over themselves to disarm before the fighting even starts.  They're going to cave to Harry Reid on funding the government through the end of next year.  Doing THAT takes away the power to defund amnesty before it gets going.
And listen to this gobbledygook from Weepy John Boehner: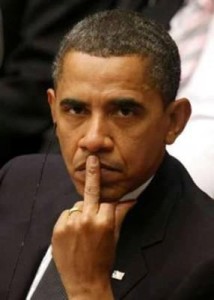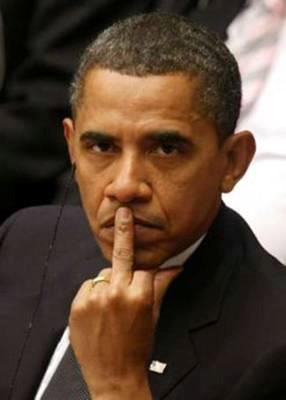 […] "Our goal here is to stop the president from violating his own oath of office and violating the Constitution. It's not to shut down the government.," House Speaker John Boehner (R-OH) told reporters Thursday, though he added that "all options are on the table" and "no decisions have been made."

"Every administration needs this, needs that, needs all kinds of things," Boehner said. "If (Obama) wants to go off on his own, there are things he's just not going to get." […]
No government shutdown, but ALL options are on the table ????  So, if you defund amnesty, and send a bill to 1600 Penn, and Barry won't sign it or vetoes it, what's the next step? Are Boehner and the boys just going to go belly-up and give Barry everything he wants so the government doesn't "shut down"?  (Answer:  HELL, YES.) 
But, wait.  Boehner is going to take a page out of the Pat McCrory playbook and SUE — instead of doing his job. 
For what it's worth, Mitch McConnell is using the same talking points.
But there appears to be some evidence of spine showing itself among some House Republicans: 
[…] More than 50 Republican lawmakers signed a letter Thursday circulated by Rep. Matt Salmon (R-AZ) that urged Appropriations Committee chairman Rep. Hal Rogers (R-KY) and ranking member Nita Lowey (D-NY) to defund any executive actions on immigration by including language blocking its funding in upcoming government funding bills.

They specifically singled out "current or future executive actions that would create additional work permits and green cards outside the scope prescribed by Congress." According to the New York Times, Obama's planned actions would give work permits to up to 3.3 million undocumented immigrants whose children are U.S. citizens or legal residents. And as many as five million people could be protected from deportation in total.

Rep. Tim Huelskamp (R-KS), an influential member of the tea party caucus, told reporters Thursday that the election should embolden Republicans to face off with Obama. He was one of the signees of Salmon's letter (reprinted below).

"No one ran on getting along with the president," he said. "That'll be the difficulty if folks turn around and do a 180 and say, 'Oh now we're going to compromise with the president."

Huelskamp said that "nobody wants a shutdown," but then he placed the responsibility on Obama if one occurred.

"We don't control that. That's the president," he said. "Is the president going to shut down the government over a failure to fund an amnesty proposal? I think the House will stand up, and perhaps even the Senate, and say, 'No funding for amnesty.' Then would the president shut the government down?"

"The House pretty clearly isn't going to fund amnesty," he concluded.[…] 
The Salmon letter is HERE.  (If you read the letter itself, you will note that Walter Jones is THE ONLY member of the North Carolina delegation to sign on to this letter.  There needs to be MORE. Ready to hold some feet to the fire, people?  This is the future of our country, here.)