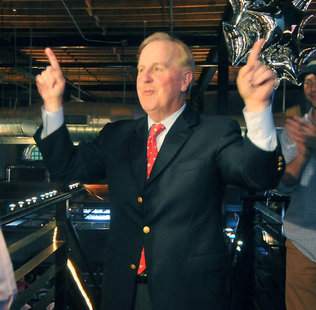 It appears that guerilla cameraman  Chuck Suter's BFF — US representative Robert Pittenger — is getting a primary after all.  We got treated to some leaked / planted nonsensical stories in the mainstream media (probably from RP's fundraising team ) about some alleged "Tea Party" group from Virginia nobody has ever heard of allegedly trying to take him out. 
No, friends.  This last-minute primary challenger is not Suter's evil alter-ego from the dark side — "Illuminati Chuck."   It's actually former pastor and current Charlotte-area insurance broker and financial planner Michael Steinberg.  
Suter helped Pittenger gain some unflattering national publicity — catching the congressman on camera admitting that he would not help the fight to defund ObamaCare. We also had a Pittenger aide taking to Facebook to trash Ted Cruz's effort to defund ObamaCare.  The Club For Growth ranked Pittenger an uninspiring 66th place out of 435 (albeit the third most conservative in the NC delegation) on their annual assessment of congressional fiscal conservatism.
While Pittenger has balked at fighting ObamaCare, Steinberg has pledged to go to war against the bureaucratic monstrosity.   Pittenger has worked with Speaker John Boehner and House GOP leaders to remove the debt ceiling and approve budget-busting spending.
There had recently been media reports that Pittenger would get a pass from both parties this year.  Steinberg's move guarantees that every congressional district in the state will have spirited primaries where incumbents will have to defend their records and debate the issues.