We're not in Raleigh anymore: #NCSEN race sounding a lot like one for #NCGA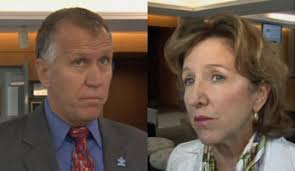 The last six years in DC has offered a treasure trove of ammunition for conservatives seeking to "take out the trash" in our nation's capital.  Barry Obama has wrecked our economy, further damaged our health care delivery system, shoved gay marriage and abortion-on-demand down our throats,  and made us an international laughingstock, among other things.  And OUR KAY has been a ready, willing, and able accomplice for him in that mission.
Now, that we have a GOP nominee against Kay Hagan, you would think we'd hear a lot about her antics over the last six years.  But, sadly, no.  The media and the Hagan campaign have focused the debate on the current General Assembly.  The Tillis campaign appears to be taking the bait — telling us all about what Kay DID in Raleigh from 1999 to 2008.  This would be a great tactic if Tillis were trying to unseat Hagan from the North Carolina Senate. 
Here is a sampling of things you could be reminding the voters about, in regard to Madame Sock Puppet.  Hagan has been taking credit for stuff where she was really nothing more than a bystander.  Kay and her caucus voted to pay for ObamaCare by raising interest rates on student loans.   She's played racial demagogue on state election reforms and has helped hammer through amnesty legislation.  Kay has voted in favor of giving states the power to collect sales taxes from online sales.   She's voted to clamp down on the Second Amendment while vociferously defending a "right" to abortion that is not mentioned anywhere in our Founding Documents.  The abortion industry has been loading her campaign treasury with cash.   Kay has voted in support of judges who want more government meddling in churches as well as radical leftists for key Justice Department posts.  She also told us that we'd grow to LOVE ObamaCare if we only took time to "understand" it.
It's time to talk about Kay's tenure in DC and how the Republican nominee will do better over the next six years.