ThommyT loves cryptocurrency. (Now ABOUT that stolen FTX money …)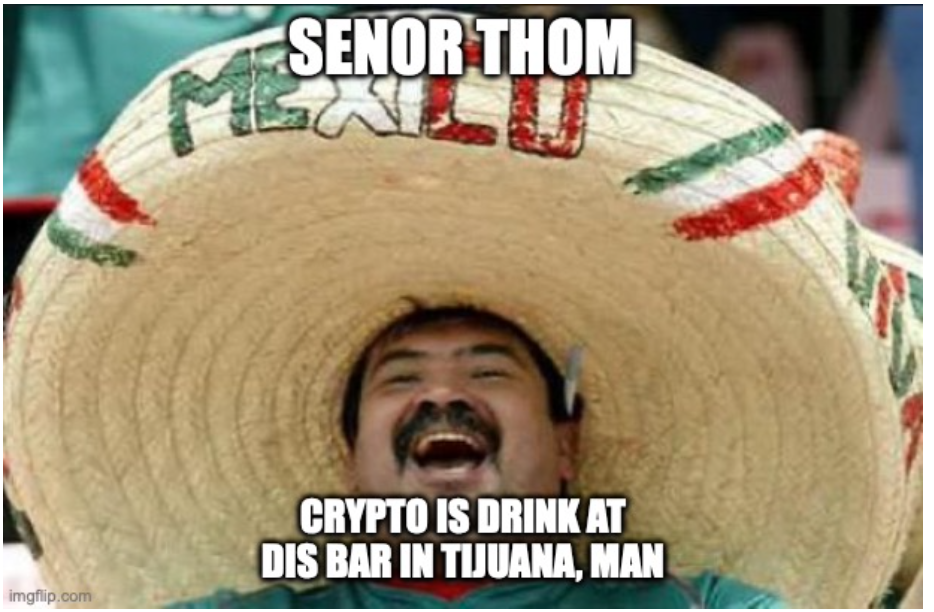 It's just uncanny how quickly Thom Tillis becomes a fan of something after the supporters of that particular something PAY HIM.  You may or may not recall that a PAC "controlled by Tillis" took in $700K from Sam Bankman Fried and his film-flam buddies at the now-bankrupt FTX cryptocurrency exchange.  Much of that Fried money was spent on Chuck Edwards's primary challenge of Madison Cawthorn. 
We've never heard ThommyT speak much of anything about crypto.  But now that he and his cronies have safely pocketed and "washed" all that SBF cash, TRT can't stop talking about his new favorite subject:
[…] One of the Senate's top bipartisan dealmakers has some thoughts on the art of the possible as Washington mulls the future of crypto.

Sen. Thom Tillis (R-N.C.) has emerged as an increasingly key player in several bipartisan packages that have cleared the Senate and become law in recent years. But crypto might represent a policy sweet spot for Tillis.

A member of both the Senate Banking and Finance committees, Tillis also happens to share a homestate with House Financial Services Committee Chair Patrick McHenry (R-N.C.), who has made digital asset legislation a top priority.

Here are the top takeaways from our conversation with Tillis:

Tillis is more skeptical about crypto than he used to be. The North Carolina Republican told us he's had "ongoing discussion and debate" with his staff about crypto in the months since the crypto exchange FTX collapsed.[…]
I wonder if any of that "discussion and debate" included the question of whether or not to give back the $700K-plus embezzled from FTX investors. 
MORE:
More from Tillis:

But Tillis hasn't given up on the sector, either. "I believe digital assets, cryptocurrency are here to stay," Tillis said, adding that the United States needs to "figure out a way" to regulate it.[…]
When  you're regulating something or someone, it's much easier to shake them down for cash.
MORE:
[…] Tillis says the industry needs to think more seriously about self-regulation before Congress steps in.[…]
Fatter envelopes of cash.  yessiree. Fatter envelopes of cash, or we "step in ."
MORE:
[…] Self-regulation isn't an alternative to meaningful government oversight. But Tillis said that it would be considerably easier for Congress to establish best practices if the sector took greater strides to organize itself with some basic principles.

"This could be a Congress where we can talk about some self-imposed standards, methods of behavior that the industry needs to coalesce around, and then what sort of regulatory regimen we should layer on top of it," Tillis said.

The Senate should follow the House on crypto – unless the House can't get a bipartisan bill done.

Tillis cheered the House Financial Services Committee's approach, where Democrats and Republicans spent much of the 117th Congress hammering out starting principles behind a stablecoin reform bill.

Now, Tillis said the Senate needs to "work with the House to see what is possible for them, what they're willing to pursue, that is going to produce some level of support from Democrats."

Congress could use digital asset reform to address other gaps in banking regulation.

If the banking industry has had a single complaint since the passage of Dodd-Frank reform, it's that too many fintech firms offer bank-like services without bank-like regulation. Public data, including banks' vanishing share of the U.S. mortgage market, often backs that up.

Tillis told us that crypto reform could dovetail nicely with a bill that addresses "fintechs that are operating like banks without any of the regulatory constraints that banking and credit unions have to deal with."[…]