The Round Rev & his rabble come to town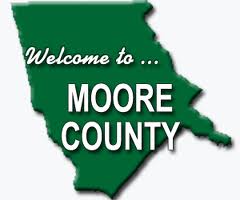 We here in Moore County were, um, "honored" with the presence of Bill Barber and his traveling circus of parasites and leftist loons this afternoon.
As usual, the media was present — swooning, slobbering and ready to take dictation.  It's funny, though. They couldn't agree on attendance at the event.  ABC 11 said there were "dozens" in attendance.  Our local Nobel Prize nominated, money-bleeding local paper said there were "hundreds" in attendance.  (*Math is sooooo HARD.*)
ABC 11 is STILL not acknowledging the fact that the Moral Monday sideshow is being stage-managed by one of their recent former on-air employees. Their video identified Bobby "The Sidewalk Assassin" Etheridge as simply an "education proponent."   Too funny.  (I wish they would have aired my all-time favorite Bobby Etheridge footage.)
Moore County was a strange stop for Barber & company.  The county is one of the whitest, most-reliably Republican jurisdictions in the state.  Looking at the ABC 11 video — I've seen more people in the downtown Southern Pines park during the summer "Movie In The Park" events. However, we're close enough to the Triangle for some Chapel Hill-Carrboro rabble to be imported in for a photo op.
I know from experience — it's tough to hold a credible protest / rally here.  Our population is mostly retirees — who spend their days on the golf course or inside beating the heat — and young professionals with families, who don't have time to hang out at protest rallies. (A few years back, Southern Pines did have a small pack of kooks who held a sit-in at a downtown tree, to keep it from being cut down for construction of a new restaurant. The tree was cut. The place got built. It serves up a great steak.)
The ABC 11 reporter claimed there were Republicans at the event.  (I'm not sure if he checked voter registration cards.) But he sure couldn't get one to go on camera.