Well, who doesn't?  The trailer-park, weed-eater haircut. The trashing and betrayal (and primarying ) of conservatives.  The flexible, ever-shifting moral code.  And let's not forget all of Thom's crossing-the -aisle and promotion of many things liberal.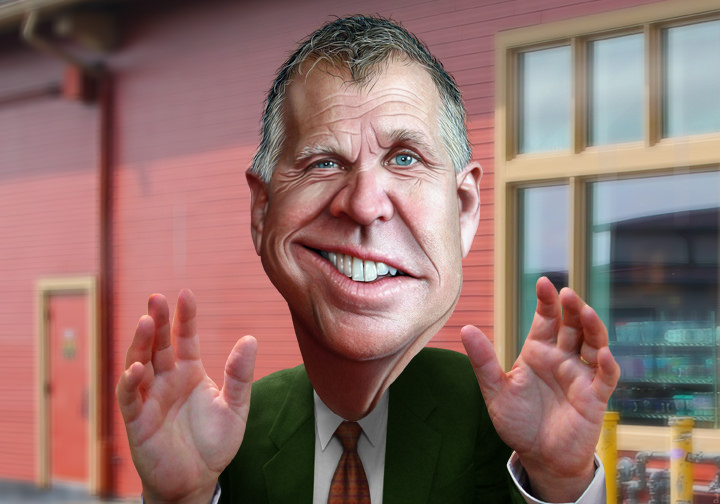 I know Ted Budd has a lot of the same campaign operatives who orchestrated Thom's two Senate campaigns. (You know, the close calls against very weak Democrat opposition.)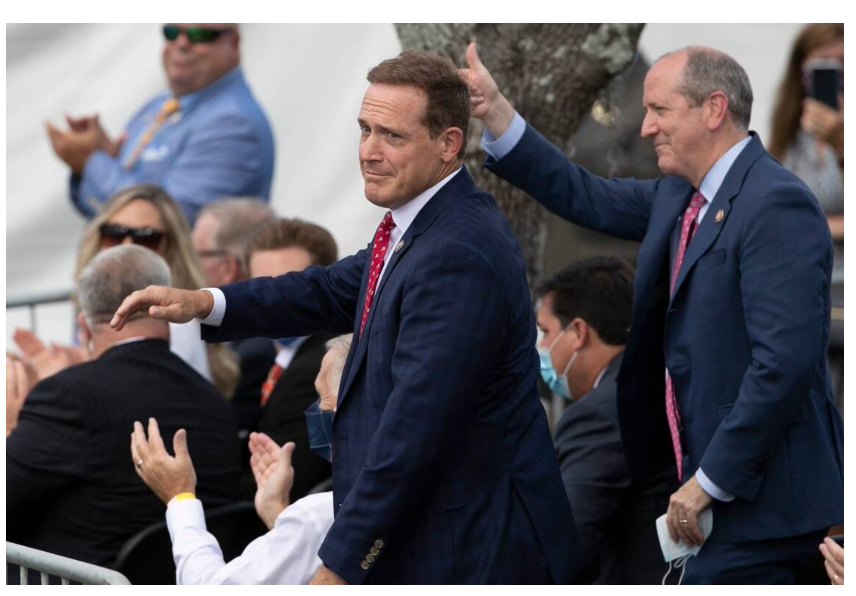 Budd has done well in the House with Dan Bishop as his mentor and role model. Lately, Budd has apparently been advised that his key to the Senate lies with buddying up to Tilli$$$.   (Never mind that Tilli$$$ and his goons bank-rolled and engineered Pat McCrory's mean-spirited, arrogant, scorched-earth primary campaign against Budd and Mark Walker.)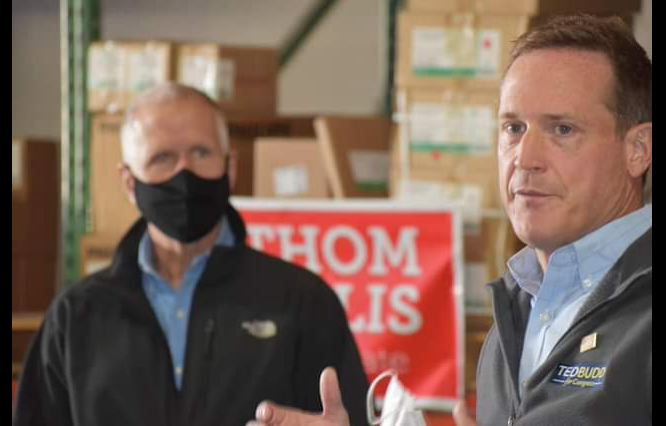 Budd has been signing on to a lot of "letters" and legislation primarily involving Tillis.  In fact, Budd announced another team-up with Tillis just the other day:
Today, Sen. Thom Tillis (R-NC) and Rep. Ted Budd (R-NC) sent a letter to Department of Homeland Security Secretary Alejandro Mayorkas requesting the Alien Files (A-Files) and all relevant information on the individuals charged with the murder of Wake County Deputy Sheriff Ned Byrd on August 11, 2022.

Sen. Tillis and Rep. Budd also chaired a roundtable discussion today with NC sheriffs, state legislators, and border patrol to highlight the need to stop sanctuary cities in North Carolina.[…]
I know for a fact that Budd's campaign team has been advised to hug their client up tight to Trump.  Nobody reputable has ever mentioned Tilli$$.  Thom has never seen 50 percent of the vote, and has survived primarily due to packing the primary with useful idiots to dilute the conservative vote. This dream-team Budd-Tillis pairing has produced similar results to what we've seen in Tillis's Senate campaigns:  weak performance in polls frequently showing a weak Democrat too-close or even ahead — as well as a too-too-close Election Day.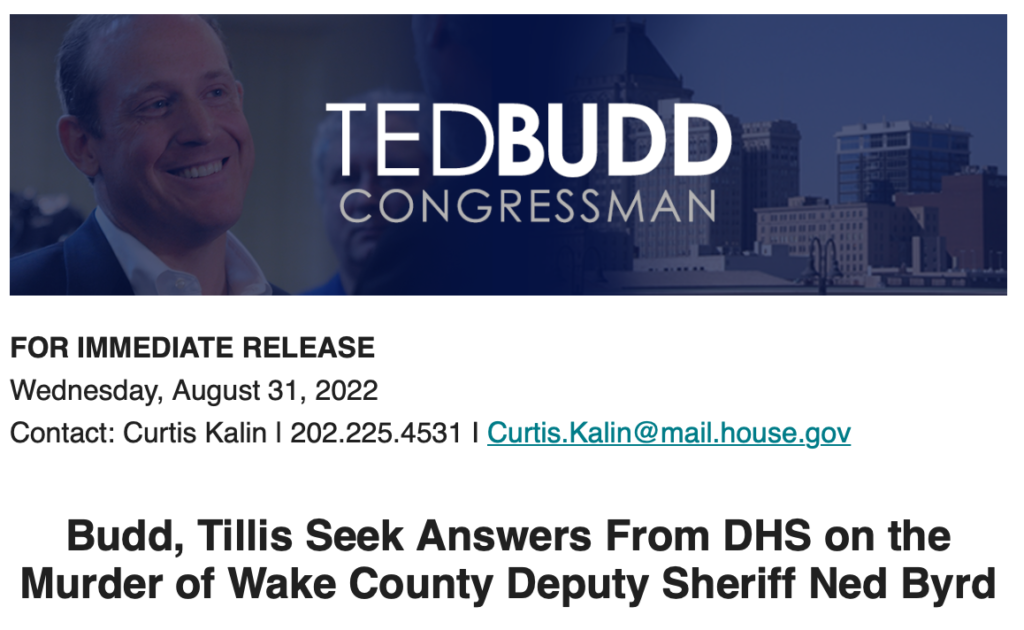 But wait, here are the key parts of the Budd-Tillis team's letter to Mayorkas:
[…] In recent weeks, North Carolina has grieved the death of Wake County Deputy Sheriff Ned Byrd, who was killed in the line of duty on August 11. Five days later, brothers Arturo Marin Sotelo and Alder Alfonso Marin-Sotelo were taken into custody. They were subsequently charged with first-degree murder in the brutal death of Deputy Byrd. On August 24, their brother, Rolando Marin-Sotelo, was charged with a firearm crime.

Based on public reporting, we have reason to believe that one or more of the Marin-Sotelo brothers may be in the country illegally. This raises significant questions about how they entered the country, why they were able to remain in the United States, and whether robust immigration enforcement would have apprehended them sooner and prevented the death of Deputy Byrd. In light of the serious nature of this matter, we request that you transmit to our offices the alien files and all relevant and pertinent information for the following individuals:

– Arturo Marin-Sotelo

– Alder Alfonso Marin-Sotelo

– Rolando Marin-Sotelo

We are deeply concerned by the public reporting by local news media that is currently available about these individuals. We look forward to your swift response to our concerns as we seek answers for why this heinous crime was committed and whether it could have been prevented by immigration enforcement.?[…]
Since when has ol' Thom been concerned about illegal immigrants or what goes down at the southern border?  He has devoted an inordinate amount of time to passing amnesty for illegals.  He has worked to increase work visas for lower-wage immigrants to fill jobs that could be worked by actual Americans.  Tillis even fought Trump's border wall tooth-and-nail.
Why is Thom suddenly here?  Has he finally realized that he's been on the wrong side for the last eight years?  Or is this simply more of his say-one-thing-to-my-DC-buddies-and-tell-another-thing-to-the-rubes-back-home routine?
Personally, I'd rather have a Democrat in the seat than yet another mealy-mouthed pretend-Republican who will aid and abet Tillis's war on MAGA and conservatism. At least the Democrat will be open and honest and up-front about his or her plans to screw you.
The stink of Tillis is what's keeping candidate Budd so close to his Dem opponent. Principled conservatism has been tried successfully plenty of times before.  It got Jesse Helms 30 years in the Senate.  It and Helms and Reagan greatly helped bring the former Dem-domain of eastern North Carolina over to the Republican Party.
Right now, Dan Bishop is all we as conservatives have to depend on in our state's congressional delegation.  Let's ensure Dan has some help in the Senate, and not just Tillis-lite.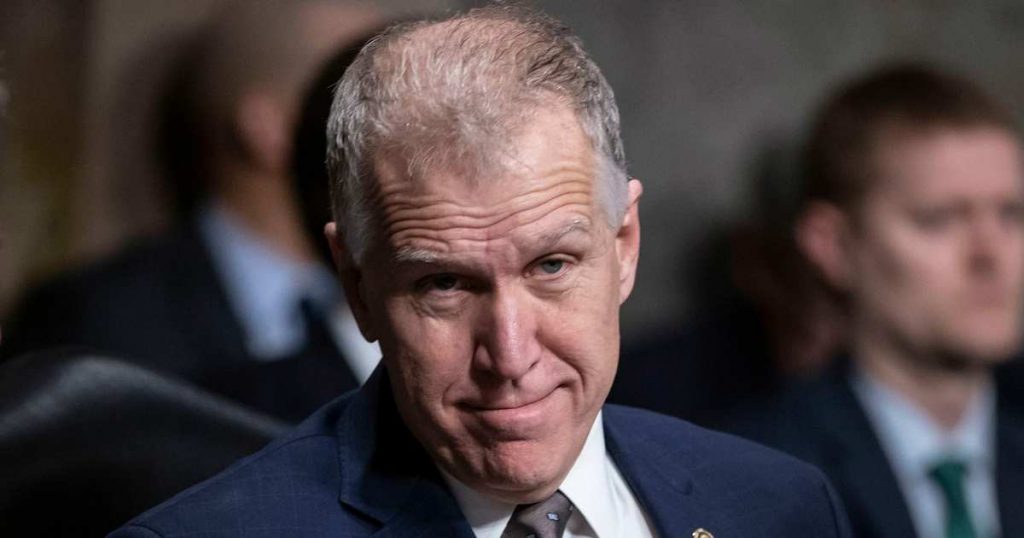 Hold Ted's feet to the fire.  Tell him to leave Thom at home.