Surprise! State BOE opens probe of 2008 Dem complaint against McCrory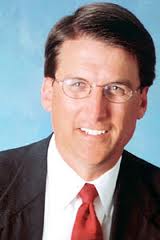 News hit this week about campaign operatives for Boss Bev 2012  being indicted on campaign finance law violations. At the end of the week, we get news that the state Board of Elections is finally getting around to investigating a complaint filed by The NC Democratic Party against the 2008 Pat McCrory for Governor campaign. :
The State Board of Elections is investigating Pat McCrory's 2008 bid for governor more than 18 months after the state Democratic Party filed two complaints alleging violations of campaign finance laws.

Gary Bartlett, executive director of the elections board, cautioned that the inquiry so far is not implicating McCrory's campaign in any wrongdoing, saying "nothing thus far (has) given us any pause."

McCrory's campaign sent a letter to state elections officials Friday questioning the timing of the investigation, given that the original complaints were filed in April 2010 and no action was taken until Oct. 29 this year.

"It's a sad and desperate attempt to muddy the political waters and a waste of taxpayers' money," said campaign spokesman Brian Nick, who called the complaints "frivolous and without merit."

The investigation into McCrory, which began as speculation, swirled as Gov. Bev Perdue's previous campaign faced an investigation involving unreported flights from donors and other campaign finance violations.

A Wake County prosecutor indicted three Perdue associates this week on criminal charges related to their work on the governor's campaign.

Bartlett, a Democrat, said his office is looking into the McCrory complaint now because he wanted it complete before candidate filing for the governor's race starts in early 2012. McCrory is the likely Republican Party nominee.

"We want to get it over with so it doesn't look like … it's following up on the Perdue thing because it's not," Bartlett said.

The April 2010 complaints were filed by Andrew Whalen, a Democratic operative who at the time served as executive director for the state Democratic Party.

The timing of the complaints themselves also raises questions, coming about 18 months after Perdue won the 2008 campaign but amid former Democratic Gov. Mike Easley's legal troubles.

In the first complaint, filed April 29, 2010, Whalen alleges that McCrory's 2008 campaign and the Republican Governor's Association illegally coordinated fundraising and expenditure efforts. The detailed filing suggested McCrory campaign manager Richard Hudson, who is now running for Congress, and his now-wife, Renee Howell, worked to raise money for the RGA's political action committee.

State law mandates that a candidate's campaign cannot coordinate activities with an independent political group, which can raise unlimited sums.

Hudson formally joined the McCrory campaign in May 2008, a month after the RGA committee was formed. But the complaint linked about a dozen of the RGA committee's first donors – none of whom had ever contributed to a North Carolina political race – to Hudson and his wife through their connections in Washington, where they worked for congressmen.

In the second complaint, filed April 30, 2010, Whalen asserts that McCrory's 2008 campaign bundled contributions from employees at a number of corporations. Bundling is not illegal – and is widely practiced in politics – but the law says donors cannot give money in the name of another person. Whalen asked the elections board to investigate to determine whether this occurred.

Reached Friday, Whalen said he is disappointed it took so long for them to investigate. But he still hopes the elections board "does its due diligence and conducts an actual investigation. The results will speak for themselves."

Bartlett said the complaint "has always been on our list of things to do" but other complaints took precedent because they were more serious.

He expects investigators will complete the inquiry in the next couple of weeks and present the findings to the State Board of Elections at its Dec. 21 meeting.

As a part of the investigation, McCrory contributors are being asked to sign affidavits stating that the contributions did not come from other sources – a move that the McCrory campaign worries will hurt fundraising efforts.

"Who would want to contribute to a campaign if he or she will be investigated, questioned and asked to sign sworn statements simply upon a frivolous and highly partisan complaint filed with the SBOE?" wrote McCrory political consultant Jack Hawke in the letter sent to Bartlett. "We would encourage you to reconsider this method of investigation in the future absent some evidence beyond mere circumstance that a violation has occurred."

The McCrory campaign also mocked the elections board for not fully investigating the Perdue campaign.

"In light of the recent indictments, we can understand the state board's embarrassment having passed on an opportunity to hold hearings and fully investigate the Perdue committee and its associates," Hawke wrote. "But the SBOE should be cautious that it does not overreact."
Back in 1995, during Governor-for-Life Jim Hunt's third term in office, I uncovered a clear case of gubernatorial aides shaking down state employees and their families for campaign contributions.  I  published my story, and the state House opened hearings into the matter.  During the hearings, I was at the SBOE offices in Raleigh doing some research.  While I was there, I witnessed two SBI agents come in and demand the campaign records of Hunt's Republican predecessor Jim Martin.  (The SBI, at that time, was under the supervision of squeaky-clean Attorney General Mike Easley.)  I contacted the SBI director about the Martin records search.  He swore to me it had nothing to do with the state House probe against Hunt.  The director said it had to do with ANOTHER UNRELATED investigation.  (I am still waiting for news on the disposition of that OTHER UNRELATED probe.
Bartlett is a good party man.  If it had not been for the Wake D.A., we would NEVER have uncovered the current allegations against the BOSS BEV 2012 campaign team.  They have the media locked down.  They have a controlling majority at the board of elections.
Just like in 1995, this is little more than an attempt to change the subject and take the heat off of a Democrat governor whose hand has been CAUGHT in the cookie jar.